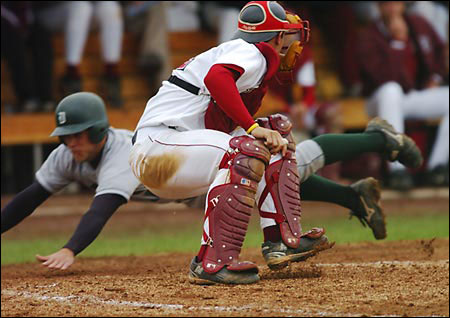 After clawing their way back for a pair of impressive single-run victories against visiting Dartmouth on Sunday (May 1), the Harvard baseball team didn't fool around much when the four-game series resumed on Monday (May 2) in Hanover, N.H. Actually, the Crimson clamped down just long enough to lock up the first game of Monday's doubleheader, 10-6, and, along with it, the Red Rolfe Division title.
Dartmouth, meanwhile, took the nightcap game by a score of 8-5, thereby avoiding the sweep. But by then, the Harvard mission was complete.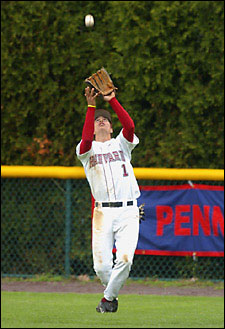 Set to face Cornell for the league championship in a best-of-three series beginning this Saturday (May 7), Harvard wraps up its Ivy season at 15-4 Ivy. In compiling four more wins in league play than the Big Red, Harvard gets to host this weekend's playoff.
In the Dartmouth series opener on Sunday at O'Donnell Field, Harvard exploded for six runs in the bottom of the fifth to turn a four-run deficit into a 9-7 advantage. Zak Farkes '06 smashed a homer to center field – his fourth of the season – to start the comeback. The Big Green cut the lead to 9-8 following a sacrifice fly in the final inning, but freshman reliever Steffan Wilson struck out Dartmouth's Marty Hebert to earn the save. In the second match-up, Dartmouth again got off to a quick start, notching seven runs over the first two innings. Harvard pulled within 7-6, however, following a three-run effort in the third inning. The Crimson went on to hold the visitors scoreless through the next four innings before nabbing the 11-10 final in the bottom of the ninth after plating a pair of runs.
In Monday's opener, the teams were deadlocked at three runs apiece before Harvard took control with a five-run rally in the sixth inning. Dartmouth hurler Michael Madson helped spark the Crimson run, tagging three consecutive batters to send two Harvard runners home. Farkes then blasted a two-run single to put the Crimson on top, 8-3, to close out the inning. The Crimson added two more runs in the top of the ninth courtesy of Matt Vance '08, who smashed his first career home run. Harvard weathered a three-run rally by the Big Green in the bottom of the ninth before clinching the contest, 10-6, and its second Rolfe division title in three years.
The Crimson, which fell to 24-15 overall following their 10-3 loss to Northeastern on Tuesday (May 3), will refocus its gaze on Cornell and the Ivy prize on Saturday (May 7) at noon. Visit http://www.gocrimson.com for the latest scores.