Nearly 80 percent of the students admitted to the Class of 2009 will enter Harvard in September. The current yield is 78.5 percent, slightly above last year's 77.6 percent.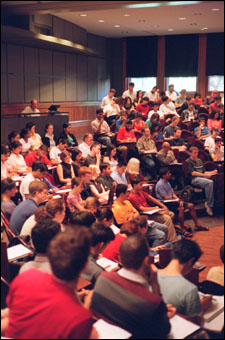 The yield is likely to rise by the time the Admissions Committee makes its final selections in June. The high yield means that only a small number of students can be admitted from the waiting list this year.
"Yield" is considered a measure of a college's competitiveness. Harvard's yield remains, by a substantial margin, the highest of the nation's selective colleges – particularly striking because students admitted under Harvard's Early Action program are free to enroll at other colleges.
The Class of 2009 was selected from a record applicant pool of 22,796. It is quite possible that for the second time in Harvard's history, there will be more women than men in the entering class. At this time, women outnumber men – 814 to 813. The yield for women is 79.3 percent; for men, it is 77.8 percent.
"The entire Harvard community, from the teaching faculty to alumni/ae, students, and staff, offered an extraordinary welcome to the Class of 2009 during the month of April," said William R. Fitzsimmons, dean of admissions and financial aid. "We are very grateful for their help in assembling this remarkable class."
Members of the faculty, along with administrators, conducted panel discussions and fielded many questions from admitted students in person, on the telephone, and via e-mail. Alumni/ae hosted numerous "admit parties" and telephoned admitted students in their local areas. Undergraduates – through the Undergraduate Admissions Council, the Undergraduate Minority Recruiting Program, and the Harvard Financial Aid Initiative – telephoned and e-mailed all admitted students and hosted 1,000 of them in Cambridge. Admissions staff, particularly Grace Cheng, director of the April Visiting Program for admitted students, and Erin Fehn, director of the Undergraduate Admissions Council, ensured that admitted students had the opportunity to experience life at Harvard firsthand.
Harvard's Financial Aid Initiative (HFAI), which requires no parental contribution from families with incomes under $40,000, and a greatly reduced contribution from families with incomes from $40,000 to $60,000, helped boost the yield. Currently, 79 percent of HFAI students have accepted their offer of admission and there will likely be 290 or more students benefiting from the program compared with 245 last year, an 18.4 percent increase.
"I am extremely pleased that the HFAI program has developed so well and so quickly," said President Lawrence H. Summers, who announced the program in February 2004. "It sends a powerful message that Harvard is open to talented students from all economic backgrounds."
Harvard's financial aid program next year will be the most generous in its history, with $84.6 million in scholarships for undergraduates, a 56 percent increase over the past six years. Two-thirds of Harvard undergraduates receive some form of financial aid, including scholarships, loans, and jobs. The average total student aid package will be close to $30,000.
"Harvard College and the Faculty of Arts and Sciences continue to honor our long-standing commitment to ensure that the nation's and the world's best students can come to Harvard," said William C. Kirby, dean of the Faculty of Arts and Sciences and Edith and Benjamin Geisinger Professor of History.
Harvard's Financial Aid Office was open from 8 a.m. to 8 p.m. Monday through Friday during the month of April to respond to inquiries from parents and students. "Over 300 families had discussions with financial aid officers" said Sally Clark Donahue, director of financial aid. "We are delighted to be able to help so many students and families understand how our financial aid program can put Harvard within reach of all admitted students, including those from middle-income families."
This year at Harvard College there were 1,299 students on scholarship whose annual family income exceeds $100,000, and 369 students with family incomes in excess of $150,000. More than 3,200 students from all classes received need-based scholarship assistance.
The Class of 2009 is similar to last year's class in terms of geographic background and intended field of concentration. There are slightly more students from New England and the Pacific states and fewer from the South and Mountain States.
Prospective humanities concentrators comprise 28 percent of the Class, while 25 percent listed social sciences and 23 percent indicated biological sciences. Eight percent are interested in math and 7 percent in the physical sciences, while 6 percent lean toward engineering, 1 percent toward computer science, and 1 percent are undecided.
Asian-American students will comprise 18.7 percent of the Class of 2009, compared with 19.9 percent last year. African-American students will comprise 9.2 percent of the Class of 2009 (8.9 percent last year), Latino students 7.4 percent (8.8 percent last year), and Native Americans 0.9 percent (1.1 percent last year).
"The recruiting program for the Class of 2010 has already begun," said Marlyn McGrath Lewis, director of admissions. More than 70,000 letters will be sent to high school students, and Harvard admissions officers will visit 70 cities this month in conjunction with three other colleges. "Thousands of prospective students and their families have already visited Cambridge over the past few months, attending group information sessions and tours" she said. Attracting the world's best students is now a year-round effort.