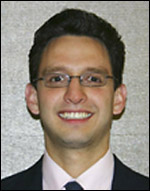 Harvard Medical School instructor in medicine Christian Arbelaez has been appointed to the Sullivan Alliance to Transform America's Health Professions, a national panel working to create a diverse and better-trained health-care workforce.
"Christian is a rising star in the Department of Emergency Medicine at BWH [Brigham and Women's Hospital]," said department chairman Ron Walls. "His dedication to improving access for underserved minorities has already begun to bear fruit."
For the next three to five years, Arbelaez, who is also a research fellow in social medicine, will work to implement the alliance's 62 recommendations to hospitals, medical and business schools, and public forums around the country. The Sullivan Alliance encompasses the former Sullivan Commission and an Institute of Medicine panel investigating diversity in health care. The alliance partners with the Washington, D.C.-based Health Policy Institute of the Joint Center for Political and Economic Studies.