The Harvard community is invited to a performance of "The Witness Cantata," composed by Swanee Hunt, former ambassador to Austria (1993-97) and director of the Women and Public Policy Program at the Kennedy School of Government. Coro Allegro – Boston's acclaimed chorus for members and friends of the gay, lesbian, bisexual, and transgender communities, directed by David Hodgkins – will perform the cantata May 13 in Sanders Theatre at 8 p.m.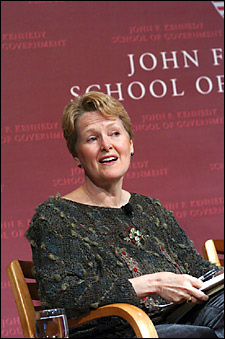 "The Witness Cantata" has been performed in Washington, D.C., Vienna, Sarajevo, Salzburg, and several other cities. The piece is structured around the tradition of the "seven last words" of Jesus on the cross. To interpret those brief narrated scriptures with a contemporary text, Hunt added her own words to those of Russian poet Anna Akhmatova, American Theodore Roethke, poet William Blake, and Nobel laureate Elie Wiesel, a Holocaust survivor and author of "Night." The words speak of political oppression, struggle, and profound loss.
"The Witness Cantata is a reminder that suffering is an inescapable and even rich part of life – not simply to be avoided but to be integrated into a whole understanding of what it means to be human," said Hunt. "In the past, people of all faiths have found the cantata to be a meaningful reflection of hope in the face of despair, of inner light confronting outer darkness."
Hunt will lead a preconcert discussion about the cantata's musical score and the musical themes and techniques to interpret the powerful text at 7:15 p.m. Bishop Gene Robinson of New Hampshire, the first openly gay bishop of the Episcopal Church, will narrate. Soloists will include soprano Sarah Pelletier, mezzo-soprano Mary Westbrook, tenor Matthew DiBattista, bass Donald Wilkinson, and boy soprano Simon Chase.
Hunt is the founder and chair of Women Waging Peace, a global policy-oriented initiative that strives to integrate women into the peace process.
Coro Allegro presents 'Witness Cantata' Friday, May 13, in Sanders Theatre at 8 p.m. Preconcert discussion with Swanee Hunt at 7:15 p.m. Tickets are $60/$45/$25/$15 general; $4 off for students and senior citizens; groups of 10 or more receive a 15 percent discount. Harvard Box Office (617) 496-2222.