Carla A. Harris, managing director, head of Equity Private Placements, Financial Sponsors and Retail Capital Markets Coverage for Global Capital Markets at Morgan Stanley in New York, has been named the recipient of the 2005 Harvard College Women's Professional Achievement Award.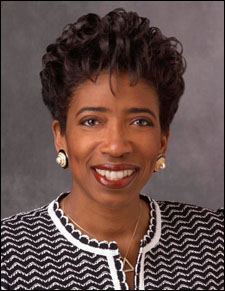 Lia Christine Larson, a Harvard senior, is the student winner of the 2005 Harvard College Women's Leadership Award. Both women will be honored for exceptional skills as leaders and role models at a ceremony and dinner on April 19 at the Charles Hotel in Cambridge, Mass.
Harris, who received her A.B. degree in 1984 and M.B.A. in 1987, both from Harvard, was selected for making a broad impact in community service while achieving high distinction in her career. Harris has been named to several Top-50 lists, including Fortune Magazine's list of "The 50 Most Powerful Black Executives in Corporate America" and Essence Magazine's list of "The 50 Women Who Are Shaping the World."
Actively involved in her community, Harris believes that "we are blessed so that we can be a blessing to someone else." She serves on community and foundation boards ranging from the New York City Food Bank and A Better Chance Inc., to The Apollo Theatre Foundation, the St. Charles Borromeo Catholic School, and the Executive Leadership Council of the Boy Scouts of America. She also finds time to pursue a successful singing career and has just released her second CD, a gospel album titled "Joy Is Waiting."
"A woman whose life represents a unique balance of professional, civic, and personal engagement, Carla Harris is an outstanding role model for our students, and I am pleased that Harvard College will celebrate her exceptional leadership and her notable achievements," said Julia G. Fox, assistant dean of Harvard College and director of the Ann Radcliffe Trust in Harvard College.
Larson, a concentrator in economics, has devoted unwavering effort to creating a place for women at the political table, according to Jennifer Phillips, director of National Programs for the Institute of Politics at the John F. Kennedy School of Government. Most recently, Larson led a team of students in publishing "Skirting Tradition: Women in Politics in the Next Generation," a compilation of essays and personal stories by female public leaders whose goal is to encourage young women to go into politics and/or public life.
As a Crimson editor Larson wrote a biweekly column called "Skirting Convention" that focused on women's issues. "Lia is undoubtedly a powerful voice for women," stated Kathy Lin '08 in her nomination letter. "Lia's words have reached out and profoundly [influenced] many people." In his letter of support Ronaldo Rauseo-Ricupero '04 credits Larson with inspiring women to take a more active role in the Crimson's editorial decisions. As an editor she had "an incredible ability to attract and cultivate top female writers … by means of providing a confident example," he said. Adds Fox, "Harvard College is proud to honor a young woman who has advocated for bringing the voices of women into the conversation, both on campus and nationwide."
In addition to recognition of Harris and Larson, the College will honor seniors Kristin García and Helen Ogbara, both honorable mentions for the Women's Leadership Award.
Now in their eighth year, the Harvard College Women's Leadership Awards are funded through an endowment established with a gift from Harvard alumna Terrie Fried Bloom '75. The Harvard College Women's Leadership Awards are part of the Ann Radcliffe Trust in Harvard College, a resource for women undergraduates, which seeks to raise the visibility of women and women's issues at Harvard and beyond.
The student prize goes to a junior or senior who has demonstrated exceptional leadership while attending Harvard, contributed toward the advancement of women, achieved meaningful impact on fellow students, and exhibited a potential for leadership in future endeavors.
"We are very pleased by the support the award continues to receive from the Harvard community," said Fox. "The selection committee faced an exceedingly difficult challenge in choosing one award recipient from a very strong and deserving pool of outstanding candidates."
The selection committee included Fox; Judith L. Ryan, Robert K. and Dale J. Weary Professor of German and Comparative Literature; Susan Vacca '76, associate director and librarian in the Faculty of Arts and Sciences Office of Career Services; Corinne Funk Hammons '97, emerita member of the Executive Board of the Women's Leadership Project; and Erin Ashwell '02, a member of the Women's Leadership Project Alumnae Advisory Board.