Widener Library has been selected by the American Institute of Architects (AIA) and the American Library Association (ALA) to receive the 2005 AIA/ALA Library Building Award.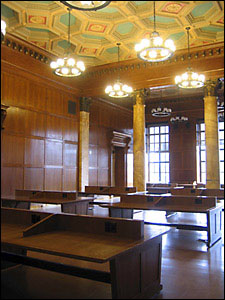 The award is given every other year to recognize the finest examples of library design by architects licensed in the United States.
One of eight winners for 2005, Widener was chosen for the design of its recently concluded five-year renovation project, which involved upgrading and modernizing the building's infrastructure and its original 10-floor self-supporting stack structure. Architects Einhorn Yaffee Prescott converted space within two large light wells for new mechanical space, work areas, and two skylighted reading rooms. The project also restored the library's historic public and reading spaces, preserving existing features and room finishes whenever possible.
The Library Building Award, designed to encourage excellence in the architectural design and planning of libraries, may be given for new buildings, additions, renovations, restorations, conversion to library use, and interior redesign and refurbishing. Eligible libraries may be anywhere in the world as long as the design is by a U.S.-licensed architect.
Award winners will be honored at a program and reception on Monday, June 27, during the 2005 ALA Annual Conference in Chicago.
Other prize-winning buildings for 2005 were Arcadia University Landman Library, Austin E. Knowlton School of Architecture Library at Ohio State University, Carnegie Library of Pittsburgh, The Georgia Archives, Issaquah Public Library, Salt Lake City Public Library, and Seattle Central Library.