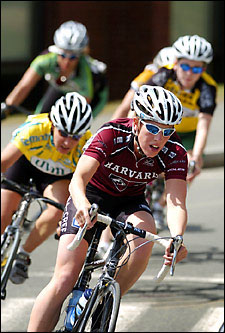 More than 400 cyclists from dozens of Northeastern colleges and universities churned up the country roads and concrete jungles of Grafton and Somerville this past weekend as part of the third annual Beanpot Cycling Classic collegiate race.
Co-hosted by cycling teams from Harvard, Boston College, Boston University, Brandeis, the Massachusetts Institute of Technology, Tufts, and the Wentworth Institute of Technology, the two-day event featured a 7.6-mile team time trial and a multi-lap road race in Grafton on Saturday (April 9), and a criterium (aka "crit" – cycling's answer to the Indy 500) through the heart of the Tufts campus on Sunday (April 10).
The Beanpot crit – a tough, technical, six-corner course – tested the best sprinters and handlers, demanding as many as 300 turns and up to 45 laps for the male racers and 35 for the top female cyclists.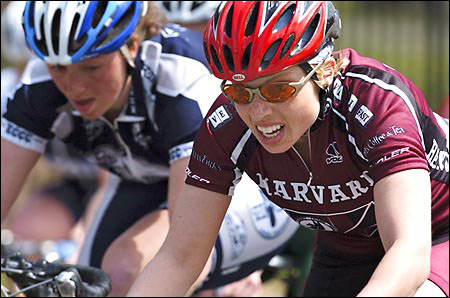 By Sunday evening, the results were in: Harvard placed fifth overall with 395 points, tallying 244 points in the team time trial on the strength of the women's A group's first-place showing. The University of Vermont, meanwhile, captured the weekend with 762 points, topping Dartmouth, Penn State, and the University of New Hampshire.
– Andrew Brooks