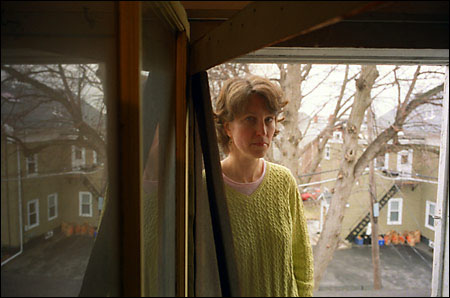 Photo by Stephanie Mitchell
It all started with a plastic Kodak camera bought with S&H Green Stamps when Mary Kocol was just 7.
Today, decades later, Kocol's life has borne out the promise of that first camera. It's a life immersed in photography, storytelling, and art. It's a life of exploration, both close to home in Somerville – where her camera's eye has recorded local streets and people – and as far-flung as the Isle of Wight, off England's southern coast, where she has a show planned for December.
Kocol's work at Harvard maintains her connection with art and photography. She works as an imaging technician in Widener Library's Preservation and Imaging Services. Her work hours are spent photographing and preserving a wide variety of images, such as maps from the Map Collection and cave rubbings from the Sackler Museum's Rubel Collection.
In addition to fine art and panoramic photography, Kocol has worked extensively with animation, including several years as a freelance animator for the Harvard-Smithsonian Center for Astrophysics, where she illustrated scientific and mathematical concepts for K-12 teachers.
Kocol graduated from the University of Connecticut and earned a master's in fine art from the Rhode Island School of Design. She worked in various jobs in the photographic industry until 1993, when she received a Guggenheim Fellowship. After that, she was able to concentrate on her art working through the 1990s and early 2000s as a freelance artist and adjunct professor at the Rhode Island School of Design and Gordon College. She came to Widener about a year ago.
Kocol has had a large measure of success. Her photographs are among collections of the New York Museum of Modern Art, the Museum of Fine Arts, Boston, the Victoria and Albert Museum, London, and many other collections. Her short films have won numerous prizes and have been shown at film festivals as far away as the Hiroshima 2000 International Animation Festival in Japan.
Kocol said she has always been drawn not just by the images photography captures, but by the in-camera manipulation of images that photography allows. She prefers to work at night, when long shutter times and unexpected light sources can paint images on film in surprising ways.
Kocol describes herself as a storyteller. She said her art – whether one frame or many – seeks to engage the audience in a tale. To that end, she's recently begun taking writing classes at the Harvard Extension School to help her better tell a story from start to finish.
"I'm really into storytelling, no matter what I do," Kocol said. "That's the common thread."
Mary Kocol's work can be viewed on her Web site: http://www.KocoMotion.com. Her photographs are represented by Gallery NAGA in Boston.