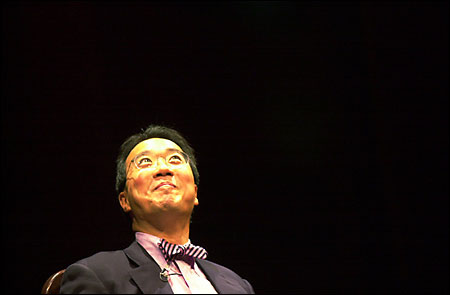 The Silk Road Project Inc., the Harvard University Faculty of Arts and Sciences (FAS), and the Rhode Island School of Design (RISD) have announced the creation of new collaborations designed to deepen and strengthen the interdisciplinary educational offerings of the three institutions.
Two thousand years before the advent of the Internet, a number of travel routes known as the Silk Road spun out a web of cultural, economic, and religious filaments connecting Asia and Europe. Along with the gunpowder, silk, and ceramics moving along these strands were musical instruments – and music – to and from Persia, China, India, and the Mediterranean.
In 1998, renowned cellist Yo-Yo Ma '76 founded a new network called The Silk Road Project to "study the ebb and flow of ideas among different cultures along the Silk Road." The project fosters collaboration among musicians, artists, educators, and institutions worldwide.
Now artistic director of the project Ma said, "We are thrilled about the new collaborations with Harvard and RISD. I never dreamed – seven years ago when we created the Silk Road Project – that it would evolve and expand in such exciting directions. There is obviously a compelling need in the world today for more exchanges across cultures, art forms, and ways of understanding. We are honored to be partnering with RISD and Harvard and anticipate many years of innovative educational and artistic collaboration."
Merton Flemings, chairman of the Silk Road Project board of directors, said of the March 30 announcement, "The multiyear shared endeavor will provide wonderful new opportunities for cultural exchanges and collaborations across art forms and disciplines. They strengthen and extend the vision and reach of the Silk Road Project."
"The Silk Road Project serves as a common resource for a number of artistic, cultural, and educational programs reflecting the heritages of the countries once connected by the ancient 4,000-mile network of trading routes that spanned three continents from Europe to Asia," said Laura Freid, Silk Road Project CEO and executive director.
"By sharing music and art across divides," said Freid, "we hope to enrich our understanding of each other and of the three and a half billion people who live along the Silk Road. We look forward to working with RISD and Harvard on new curricular approaches and workshops that will enhance all of our work."
FAS on the Silk Road
The Faculty of Arts and Sciences (FAS) and the Silk Road Project will cooperate on the development of new interdisciplinary curricula in the arts, literature, history, and music of the Silk Road regions. The focus of the residencies will be curricula-centered programs designed to explore the resources of the two institutions, to facilitate multicultural artistic and intellectual collaborations, and to expand the scope of audience participation beyond the mainstream concert tour format.
"The Silk Road Project will animate our efforts to train intellectual inquiry on artistic practices and promises to deepen our critical thinking through engagement with images, sounds, and stories," said Dean for the Humanities Maria Tatar, John L. Loeb Professor of Germanic Languages and Literatures. "We look forward to the creation of a vibrant community that will draw together extraordinary resources as our curriculum turns to new parts of the world."
The Silk Road musicians and staff will participate in Harvard courses, workshops, master classes, and public performances in subjects such as art history, ethnomusicology, languages, and civilization.
"We are very pleased to provide an intellectual home for the Silk Road Project. It is rare for such an exciting opportunity to come at just the right moment, but such is the case in this instance," said FAS Dean William C. Kirby, Edith and Benjamin Geisinger Professor of History. "The Faculty of Arts and Sciences is set to embark on a course that will emphasize international study, research, and experiences, and that strengthens the connections between the performance and study of the arts. To begin that journey on, and in the company of, the Silk Road is most auspicious."
The Silk Road Project's dual focus on the legacy of the Silk Road as well as new cross-cultural collaborations complements Harvard's multifaceted approach to learning and its emphasis on international studies and research as part of the undergraduate experience.
Music and more
Music Department Chair Kay K. Shelemay, G. Gordon Watts Professor of Music and Professor of African and African American Studies, said she will begin her course "Soundscapes: Exploring Music in a Changing World" with a Silk Road Project case study, and that her class will track the progress of the Silk Road Project throughout the fall. Further, she said, Silk Road musicians will participate in Harvard College Professor Thomas Kelly's First Nights core course. Students from both courses will attend project open rehearsals when the musicians are in residence at Harvard.
"This is a very unusual collaboration," Shelemay said, "The Silk Road Project is a truly transnational musical venture. Working with them will give our students the opportunity to participate in a wonderful cross-cultural experience. I am absolutely delighted that the Silk Road Project will be working with our department." In addition to Music, Harvard's undergraduate and graduate programs in History of Art and Architecture, Sanskrit and Indian Studies, East Asian Languages and Civilizations, Near Eastern Languages and Civilizations, and Folklore and Mythology will all be encouraged to participate.
The first Silk Road Project residency at Harvard will be from Sept. 26 to Oct. 1.
President Lawrence H. Summers said, "Ever since his days as a student at Harvard College, Yo-Yo Ma has embodied the highest level of achievement in the arts and the highest level of commitment to having the arts enrich our students' educational experience. This exciting new collaboration should dovetail splendidly with broader efforts to enhance opportunities for Harvard students interested in the arts and to promote innovative forms of humanistic and cross-cultural learning. I'm grateful to all of those at Harvard and at the Silk Road Project who have made this collaboration possible."
The Rhode Island School of Design and the Silk Road Project will also collaborate – on the development of a number of initiatives exploring exchanges across art forms including illustration, film animation and video, digital media, and art and design education. The Silk Road Ensemble members, working in conjunction with RISD students and faculty, plan to participate in workshops that feature music, storytelling, art, and demonstrations.