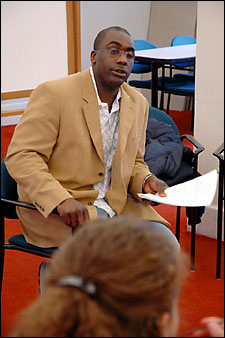 Harvard Extension School students 1st Lt. Kendrick Harris, deputy chief of advanced systems and technology at Hanscom Air Force Base, and Grace Greenwich, who commutes to Cambridge from New York, where she is associate director of alumni relations at New York University, initially seem like an odd pairing. He, in worn jeans and an unconstructed suede blazer, is constantly in motion. He takes up the whole room, fidgeting, flashing a row of perfectly straight teeth framed by quotation-mark dimples, expressing skepticism or surprise with a single raised eyebrow. She, wearing fitted tweed trousers and a bright green shawl, her hair pulled back tight, is more self-contained, seated with feet together and legs uncrossed, like a lady receiving visitors in a Victorian drawing room. But as director and co-director, respectively, of the Harvard University Tuskegee Airmen Youth Leadership (Red TAYL) Program, they seem to need each other as much as Laurel needs Hardy, as much as FDR needed Eleanor.
"It's order and disorder," says Monica Brooker, president of the Harvard Extension Student Association and a volunteer for Red TAYL, "and somewhere in there, there's a learning point."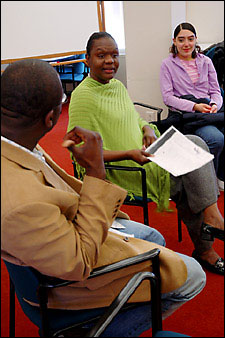 The program – which brings in a dozen or so juniors from Cambridge Rindge & Latin High School for 10 weeks of workshops, field trips, and guest speakers – seeks to empower urban youth by developing their leadership skills. It had its genesis when Harris, a young man himself and a real estate major at New York University, realized he wasn't "walking" his own ambitious talk about role models. "I used to get into debates all the time," he recalls, discussing the often glum futures of the young people he saw hanging around on street corners in his Brooklyn neighborhood. "Then I realized if anyone called me on my beliefs and said, 'Well, what are you doing about it?' I'd be stuck. And I was too much of a debater to get stuck."
He became a Big Brother and organized the Stuyvesant Young Men's Society. Unfortunately, after a few months he and the four friends helping him found they couldn't keep up the momentum. He turned to colleagues at NYU – but again, after a short time, "interest fluttered."
Then, determined his plan would succeed and seeking official university sanction, he went to the student council – and there he met Greenwich. The pair launched the successful Stuyvesant Youth Society. "Grace gave the program structure," Harris says. "I have big ideas, goals. I got the vision thing down. But people like me need to rely on someone who is detail-oriented, someone to provide the mortar to keep the bricks together. That's what Grace did."
A few years later, when both Greenwich and Harris found themselves at Harvard, they brought their zeal for mentorship – and talent for partnership – with them, and the Red TAYL Program was born, using the "same basic layout" as the program they founded in New York, focusing on conflict resolution and the positive influence motivated students can have on their peers. At the Extension School, it is still considered a pilot program, but independent evaluations have been encouraging. "At this point it's looking really good," Harris says, and quite likely to continue into the fall and beyond.
'Crease kids'
On a recent Saturday morning, the Cambridge Rindge & Latin students file in looking like they could use a little jolt of energy from the coffee and pastries set up at the front of the room. Brian, a tall young man in a hooded sweatshirt, greets Harris – a few minutes late – with "I was here! I was on time!" well aware that the lieutenant expects students to maintain the standards they committed to when they signed up. "They were given a special opportunity to be here," Harris points out, noting that of the 75 students who applied only 13 were chosen – and they were not the students one might expect.
"These are what we call the 'crease kids,'" he continues. "Oftentimes it's the kids who are doing extremely well who have a lot of opportunities presented to them. Then you have the at-risk kids who need a lot of attention, and there are only so many resources to go around. We chose kids who are doing OK to pretty well – getting grades in the C to B range, maybe the occasional A. They don't normally get a lot of attention because people think they're fine. But that's dangerous in a sense, because they can be pulled in whatever direction, and they can miss out on opportunities and kind of flounder. They're often forced to find their own way."
Today, they find their way into a circle with Greenwich at the 12 o'clock position. She gets a discussion going with the tale of a recent killing in New York in which a group of teenage boys attacked another group of boys with knives and a machete, in a conflict over a girl that escalated out of control. This wakes the kids up.
"I'm pretty sure when they entered into the argument," Greenwich says, "they didn't think it was going to end anyone's life."
"But then why were they carrying a machete?" asks one of the students.
"And where do you hide a machete, anyway?" says another.
"I have a friend who carries a knife because he's afraid he might get jumped," a third offers.
Greenwich pauses and fixes him with her gaze. "Every time you sit in this circle you scare me," she says. "I hope you aren't hanging out with that guy."
Over the next three hours, the conversation touches on topics ranging from sensitivity toward the disabled to dealing with people from various ethnic and cultural backgrounds to food fights to prominently placed gold teeth. Through it all, however, Harris and Greenwich continually return to the themes of assessment, acknowledgement, and attitude. "We constantly reiterate these things so they become natural to them when they are confronted with a difficult situation," Greenwich says.
She presides over the first half of the session, using phrases like "OK, guys, let's bring it back." At one point, she goes around the circle asking each person's ethnic heritage. She offers her own ancestry – English, Jamaican, and black American – and challenges her partner on what she sees as his frequent misperceptions of others' cultures. "You do that a lot," she says to Harris – three times, to be heard above the din. "How are you going to handle this conflict?" she asks.
"I'm going to throw you in a headlock," he says, smiling broadly.
It's just this sort of interaction – honest, challenging, and friendly – that creates an atmosphere that allows the students to open up, Greenwich says.
"There are two things that make this program unique," she adds. "One is the Tuskegee influence" – Harris is a member Tuskegee Airmen Inc., a nonprofit organization that encourages philanthropic and educational activities. "That gives the students an opportunity to learn from Kendrick's leadership training. And the other key component is that this is a student-to-student program. These kids relate to us not just as facilitators but as students and people who've faced challenges and learned to overcome them." Bringing their own experiences to the table, Greenwich maintains, allows her and Harris to connect with the students and gain their trust.
A perfect example comes up in the second half of the session – which Harris leads, slightly more chaotically, while Greenwich attends a class. One of the girls talks about a conflict she is having with some students at another school, who are threatening to "jump her" over what began as a miscommunication. "Five girls are coming to my school to beat me up, and I'm supposed to stay calm, cool, and collected, and get my ass whupped?" she asks.
"Well, you need to get outta Dodge," says Harris. He brings the discussion around to finding a safe place during a conflict, dealing with the incident before it gets out of hand, and setting yourself apart as a leader by approaching the situation rationally. The students chime in with similar experiences, assuring the girl they were able to avoid fights partly because of the skills they had learned in the Red TAYL program.
Afterward, Brian, the young man who was just a few minutes late this morning, reflects on the day's lessons. "This program keeps me out of trouble," he says. "It's good for us to come here and learn not to judge people, and learn how to manage conflict so that it comes naturally to us. Like always putting on clothes before you leave the house." Inadvertently summing up the philosophy of his Extension School mentors, he adds, "If we do it, other people are going to learn from us, and eventually there'll be peace."