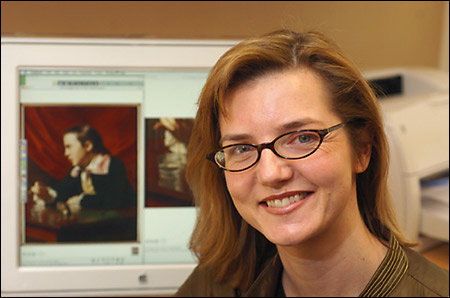 Assistant Professor of History of Art and Architecture Jennifer Roberts and Assistant Psychology Professor Matthew Nock are this year's winners of the Roslyn Abramson Award, given to faculty for excellence in undergraduate teaching.
Roberts and Nock both said they were honored by the award and credited their teaching success to assistance from fellow faculty members, inspiration from teachers and professors in their own pasts, and help from research fellows.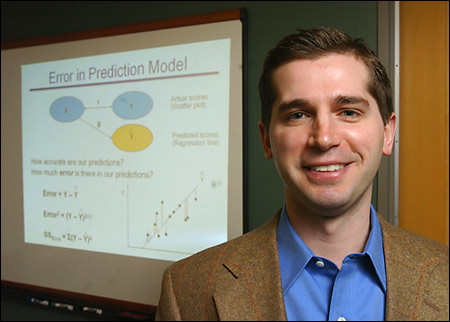 The annual award recognizes "a faculty member in the Faculty of Arts and Sciences in recognition of his or her excellence and sensitivity in teaching undergraduates." The award comes with a $6,000 grant that recipients can use for either summer salary or research.
Roberts is an expert in American art from the Colonial period to the present and in contemporary art and theory. She teaches two lecture courses that span the history of American art, and undergraduate seminars on pop art and on the Gilded Age.
"Professor Roberts deeply engages her students in the intricacies of American art history, contemporary art, and theory," said Dean of the Faculty of Arts and Sciences and Edith and Benjamin Geisinger Professor of History William C. Kirby. "Whether deconstructing objects in a course called 'The Thing,' or examining multinational influences on art in early America, she brings her students to a complex understanding of visual and material culture. I congratulate her on receiving the Abramson Award."
Roberts said her teaching and research are an integrated whole and that her classes often reflect her latest thinking on her research. Her classes, she said, often help her work through particular problems in the field that interest her.
Roberts attributed her teaching success to a variety of factors. She said colleagues in the Department of History of Art and Architecture have helped inspire her and she's benefited from working with a talented group of teaching fellows and outstanding students. She also benefited from having excellent role models at Stanford when she was an undergraduate.
"I can't remember ever having been bored in any of the art history courses I took as an undergraduate at Stanford," Roberts said. "My professors there taught me everything I know about lecturing."
Roberts said she tries to convey her enthusiasm for her subject in her lectures, and, in her seminars, to make the class more of a research workshop for students to share ideas and build relationships that endure outside of the class.
"If students begin spontaneously e-mailing bibliographic suggestions to each other late at night, then I know something's working," Roberts said.
Roberts said she has high expectations of her students, particularly in writing, and has faith in them to produce important and original work.
Nock, who is director of the Laboratory for Clinical and Developmental Research, teaches undergraduate courses on behavioral statistics, self-destructive behaviors, and psychopathology research.
Kirby praised Nock's dedication, compassion, and enthusiasm.
"Gifted teachers are a subset of a much larger pool of talented scholars," Kirby said. "Professor Nock's students praise his enthusiasm and caring in the classroom. His work on self-injurious and aggressive behaviors, especially among children and adolescents, calls for dedication and compassion, which Professor Nock displays in no short supply."
Nock said he was honored by the award and that he views teaching as his most important duty as a faculty member, calling it a primary focus every day of the week.
Nock said he learned the importance of being a good teacher firsthand. He said he's been lucky to have a series of outstanding mentors and teachers who've had an enormous impact on his own teaching.
"They showed me how exciting and how much fun research and teaching can be," Nock said. "Also, they were all incredibly generous with their time and resources, and from my experiences as a student with them, I learned to appreciate what a profound impact a teacher can have when he or she sacrifices even a small amount of his or her time for a student."
Faculty here at Harvard have also been influential, Nock said, providing guidance and serving as models on teaching, supervising, and mentoring students.
In his own teaching, Nock said he works to bring energy and creativity to his courses. He tries to make the subject relevant to students' own lives and, particularly in smaller classes, makes an attempt to understand what each student wants to get out of the class and to help them attain that.
"Everyone comes to the course or lab with slightly different goals, and I try to individualize the experience as much as I can," Nock said. "This often means extra work, but the end result is hopefully more rewarding for the student and teacher."
As important as contact inside the classroom is, Nock said sometimes the greatest influence comes from contact outside the class. Understanding that, he tries to make himself as accessible as possible to students.
"The most important lessons I learned as a student were through interactions with my teachers and mentors outside the classroom, so I try to be as accessible as possible to my students," Nock said. "This has been really beneficial for me because most of the Harvard students I've encountered have so much enthusiasm and such interesting and unique thoughts about whatever we cover, that I typically end up learning more from the interaction than they do."