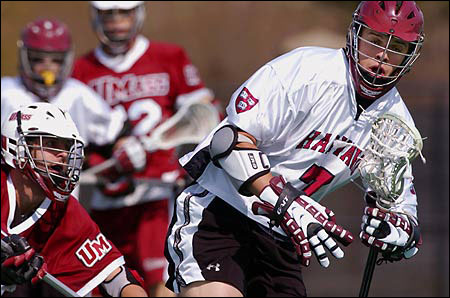 The visiting University of Massachusetts Minutemen lived up to their nickname in a big way against Harvard lacrosse on Tuesday afternoon (April 26), at one point tallying five straight goals over a two minute and 47 second span. Harvard, meanwhile – which fell to 5-6 with the eventual 8-5 loss – simply turned crimson.
Nursing a 2-1 edge, UMass unlocked the taut affair at 8:51 of the third quarter when Ryan Connolly fired a shot past Harvard goalie Craig Thomas '06, who had just entered the fray to replace his injured teammate, starter Evan O'Donnell '08. Eighth-ranked UMass continued to exploit Thomas over the next 2:47, exploding for four more goals on 11 shots to take a 7-1 advantage.
The Crimson did manage to stop the onslaught – and forge a comeback – late in the third when Brooks Scholl '08 notched an extra-man goal to close out the quarter. Midfielder Jake Samuelson '06 then opened the fourth with an unassisted score from 20 feet out to close the gap, 7-3. The celebration was short-lived, however, as UMass responded a little over a minute later to take back its five-goal lead at the 10:13 mark. Late in the quarter, the Crimson tacked on two more goals, including another Samuelson tally, to get as close as three before the final horn blew.
Harvard fired off nine shots in the final quarter for a total of 21. The Minutemen, meanwhile, were merciless on the Harvard net, ripping 32 shots. Prior to leaving the action, O'Donnell (freshly named Ivy rookie of the week) was superb for the Crimson, collecting eight saves, while UMass tender Bill Schell had nine saves in four quarters to help his team to a 10-2 record.
Next up, Harvard travels to Hofstra on Saturday (April 30) to take on the Pride.