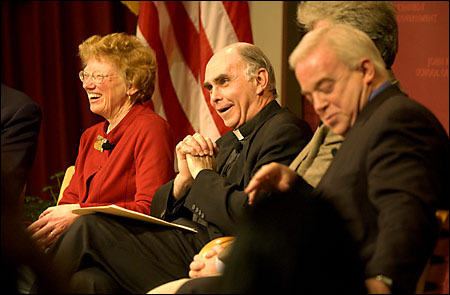 The choice of Cardinal Joseph Ratzinger to lead the Catholic Church as Pope Benedict XVI served as the springboard for a lively panel discussion on the future of religion in global politics at the Kennedy School Forum Wednesday night.
"I'm actually very worried about this appointment, frankly," said Mary Jo Bane, Kennedy School professor and author of "Taking Faith Seriously."
Two issues most concerned Bane, a former assistant secretary for children and families at the U.S. Department of Health and Human Services. One, that the new pope's writings on Christianity and Catholicism as the only way to salvation will be detrimental to interfaith dialogue. And two, that a simple Google search to find his past work on social issues and poverty relief turns up very little, Bane complained.
---
See video archive
---
"I know that people change in the office," Bane said. "But from his history on these issues that I care deeply about, I'm worried both for the church and the world."
More optimistic was the Rev. J. Bryan Hehir, professor of the practice of religion and public life at the Kennedy School. "You have a conservative intellectual – there's no question about it," he said.
"Whether he has got anything in the Google on social justice now or not, he'll have something because he has a tradition he has to live up to," Hehir added. "So there'll be a social encyclical in my view within a year because he just has to produce on that issue."
Richard Parker, lecturer in public policy at the Kennedy School, put into perspective the power of the pope over policy-makers.
"In a country as intensely Catholic as Poland where this last pope came from, ultimately he was unable to stop the Polish Parliament from passing legislation that was fundamentally in contradiction with Catholic policy," Parker said.
What then will be the legacy of Benedict XVI?
"I would hope the new pope would make serious reduction of global poverty a test of faith for this generation," said Jim Wallis, a Christian leader and author of "God's Politics: Why the Right Gets It Wrong and the Left Doesn't Get It." "A pope doing that would do more for interfaith collaboration … than anything else."
The panelists also discussed the tricky relationship between religion and politics in America.
"Religion must be disciplined by democracy," Wallis asserted. "It's perfectly fine to bring your religious conviction to the public square … but you don't get to say 'I'm religious and I get to win' or 'God spoke to me last night and I got the fix for social security.' You have to persuade your fellow citizens that what you are proposing is the best thing for all of us, religious or not."
Hehir added, "I am very apprehensive of collapsing a debate into religion and politics," he said. "Because I think the mediating term between religion and politics is some concept of morality … [then] it becomes a different debate because it doesn't mean you try to translate religious conviction directly into political choice."
Moderated by Center for Public Leadership Director David Gergen, the event was co-sponsored by the Institute of Politics and the Kennedy School's Catholic Caucus, Muslim Caucus, Jewish Caucus, and Christian Fellowship.