Christine Korsgaard believes in the power of intellectual discussion. Now that she has the means to do so, she plans to make good on that belief by seeing to it that a great deal of stimulating, productive conversation takes place at Harvard over the next few years.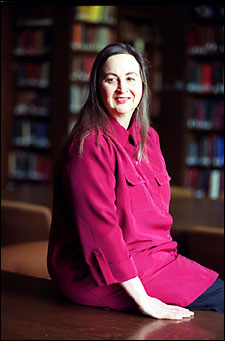 Korsgaard, the Arthur Kingsley Porter Professor of Philosophy, recently received the Distinguished Achievement Award from the Andrew W. Mellon Foundation. The Mellon Foundation will give Harvard $1.5 million for Korsgaard to spend over three years in ways that are useful for her research and for the University.
Korsgaard plans to use the prize money to initiate a series of seminars starting in 2006 focusing on many of the philosophical topics she has spent her career addressing. These include contemporary moral theory, contemporary Kantian moral theory, the theory of practical reason, the philosophy of action, the history of ethics, and questions of personal identity. She will invite prominent philosophers from outside Harvard to speak on these topics and then engage in an extended discussion of their ideas.
"The idea is to create as much focus on these issues as possible by bringing together as many people as possible to talk about them," she said.
Korsgaard also plans to organize a conference on moral duties to animals, a topic she addressed last year when she delivered the Tanner Lectures on Human Values at the University of Michigan. The title of her lecture was "Fellow Creatures: Kantian Ethics and Our Duties to Animals." In the seminar, Korsgaard will bring together philosophers who are interested in our relationships with animals and scientists who study animal cognition and psychology with the expectation that useful insights and ideas will result from the coming together of these two points of view.
The Mellon award also allows its recipient to take a third year off, a year that Korsgaard plans to spend writing books and articles based on the seminar series and the conference on animal rights. She also plans to use some of the money for fellowships to allow graduate students to pursue these same topics.
Korsgaard developed her interest in moral theory and the philosophy of Immanuel Kant while studying at Harvard as a student of John Rawls, author of the influential book, "A Theory of Justice." Rawls' work offered an alternative to the utilitarian theories of morality and government that had predominated until that time. Following Kant, Rawls emphasized the importance of the individual as opposed to "the greatest good to the greatest number."
"Rawls deepened our understanding of how these ideas worked and showed how you could apply a Kantian approach to contemporary issues," Korsgaard said.
Through her teaching and writing and now through the seminars and conferences that the Mellon award will enable her to organize, Korsgaard hopes to carry on the legacy that Rawls began.
"Rawls and Harvard have been responsible for the strong influence that Kant now has on ethical theory and political philosophy," she said.