Three-term New Hampshire Gov. Jeanne Shaheen has been named director of the Institute of Politics (IOP) at the John F. Kennedy School of Government.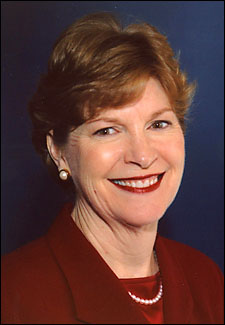 Shaheen's tenure will begin July 1. She will succeed Philip Sharp, who has served as interim director since the departure of former Director Daniel R. Glickman in September 2004.
Shaheen's career in elective office began in 1990 when she was elected to the New Hampshire state Senate where she served three terms. She was elected governor in 1996, serving three two-year terms before running unsuccessfully for the U.S. Senate in 2002. In 2004, Shaheen served as the national chairperson for John Kerry's presidential campaign.
"Jeanne Shaheen has been a trailblazer in the American political arena, having been the first woman elected governor of New Hampshire and having worked in a bipartisan way tackling tough challenges from education to energy," said Kennedy School Dean David T. Ellwood. "Her leadership, both on the state and national levels, combined with her intelligence and enthusiasm, will serve the IOP well."
Shaheen said she looks forward to her new role at Harvard.
"This will be a tremendous opportunity for me to work closely with young people, many of whom are just getting their first taste of political life," she said. "I look forward to leading the Institute of Politics during these very exciting and dynamic times, and to helping inspire vibrant college students who will become the future leaders of our country. I intend to reach out to those of all political persuasions and make the IOP a crossroads of ideas and involvement."
Harvard University President Lawrence H. Summers said of Shaheen, "As governor, Jeanne Shaheen worked very hard on behalf of her constituents, making some very difficult decisions on education funding that would have derailed other leaders, but she stayed the course.
"That spirit of determined public service is a testament to her strong and effective leadership style, and very much exemplifies the mission of our Institute of Politics."
Born in Missouri, Shaheen received a bachelor's degree in English from Shippensburg University and a master's degree in political science from the University of Mississippi. After moving to New Hampshire in 1973, she became a schoolteacher and ran a small business with her husband.
Shaheen was first elected to the state senate in 1990 and was re-elected twice, in 1992 and 1994. During her time in the state legislature, Shaheen championed the causes of fostering electric utility competition and reforming workers' compensation regulations.
Shaheen declared her candidacy for governor in 1996. She won the election despite the fact that New Hampshire voters had never before elected a female governor and had not elected a Democrat to the top post since 1980.
During her tenure as governor, Shaheen provided health insurance coverage for thousands of low-income children, protected over 200,000 acres of open space, and restructured the electric industry to lower the cost of electricity for New Hampshire's ratepayers. In 1999, she struck a compromise with the state legislature on a new school-funding package, which provided hundreds of millions of dollars in increased funding for education.
As director, Shaheen will oversee all of the IOP's activities, including its resident Fellows Program; student study groups and internships; special conferences and seminars for elected officials; and lectures, debates, and symposia. The IOP also manages the John F. Kennedy Jr. Forum, the Kennedy School's principal stage for public affairs, events, and debates.
– Kennedy School Communications