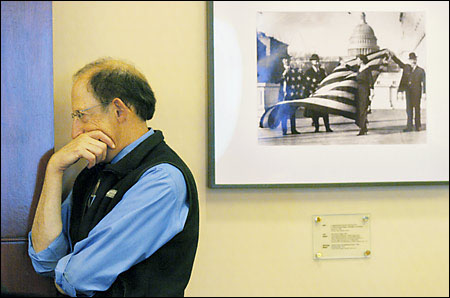 More than 150 international leaders, scholars. and practitioners gathered at the John F. Kennedy School of Government last week for a four-day conference aimed at sharing experiences and fostering discussion on how to improve democracy's functioning.
The first biannual Global Network Conference, "Making Democratic Government Work, Connecting Principles and Practice," presented panels, speakers, and group discussions on many different ways democratic governments around the world have found to innovate.
"The purpose of this conference is to widen the network of government leaders dedicated to innovation, to encourage replication of exemplary programs when relevant, and to facilitate two-way learning and creative thinking on the part of public leaders," said Ash Institute Director Gowher Rizvi.
The conference was sponsored by the John F. Kennedy School of Government's Ash Institute on Democratic Governance and Innovation.
Speakers at the conference included Kennedy School Dean David Ellwood; Harvard President Lawrence H. Summers; Geraldine Fraser Moleketi, minister of public service and administration in South Africa; and Mani Shankar Aiyar, federal minister for local government in India.
The conference examined innovations in a variety of aspects of democratic governance, including law and policy, citizen involvement, and service delivery to the poor and marginalized.
During the discussion on citizen involvement, speakers from the United Kingdom and the Philippines discussed how government officials worked to improve services to citizens by establishing standards for the provision of those services.
In the Philippines, Naga City Mayor Jesse Robredo said his administration has worked to make government as transparent as possible. Technology has been a valuable tool in this effort, with a city Web site that details events in the city and a text messaging system that reaches the 65 percent of city residents who have cell phones. Government officials also mail copies of the city charter to every citizen to help them better understand their local government.
"I-government is not about the technology," Robredo said. "It's about the use of complementary tools to reach the constituency. We've provided a system whereby we're making ourselves accountable."
Roy Stephenson, deputy director in the United Kingdom's Office of Public Services Reform in the Cabinet Office, said that the United Kingdom developed a citizen's charter program 14 years ago to improve services. The charters – 10,000 were developed by various government agencies – details expectations in providing services and steps to take if there's a problem. The program has evolved over the years, and today the charters are mainly internal documents to guide middle managers in their work and in resolving problems.
"Charters begin to teach managers the importance of really knowing what citizens want," Stephenson said.
In his speech Wednesday evening (April 13), Summers discussed the concept of democratic governance embodied in Abraham Lincoln's Gettysburg Address that government should be "by the people" and "for the people."
Summers said people often focus on the first part of that statement, emphasizing democratic elections and governmental institutions. But it may be the second part, the requirement that government function "for the people" that is more important, he said.
Governments that are "for" the people run their societies in a way that makes citizens free to live their lives and pursue opportunities. Creating a government that is "for" the people is a balancing act between the two extremes, however, Summers continued. On one hand, if a government is too powerful and controlling you risk the suppression of freedom. However, if governmental institutions are too weak to ensure security, regulate powerful interests, and provide everyday services to its citizens, it can be just as damaging, he added.
Summers praised the conference for bringing together officials from all over the world to discuss important issues concerning democratic governance.
"I'm convinced, that because of the exchanges of knowledge that take place in this conference and at conferences like this, the world is going to be better governed. And there's little more important than that," Summers said.