Students wishing to receive a medical degree as well as a doctorate in social science will be able to pursue their studies in the new M.D – Ph.D. social sciences track, headed by Allan Brandt, the Amalie Moses Kass Professor of the History of Medicine in the Department of Social Medicine and professor of the history of science in the Faculty of Arts and Sciences (FAS).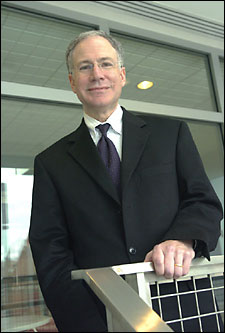 Though some students currently work toward a joint degree in these two areas of specialization, they often have not had the resources and structure that are available to students who are pursuing dual degrees in medicine and the basic sciences, said Brandt. In the past, students trying to earn an M.D. and a Ph.D. from another Harvard school all belonged to the same joint-degree program, created for those investigating basic science along with medicine.
Every year, says Brandt, students come to Harvard who want to get their M.D. while studying medical anthropology, health policy, or Brandt's area of expertise, the history of medicine, as well as other disciplines in the social sciences. The new track will remove some of the hurdles these students face and help train them to carve out new space for their interests and goals.
Students pursuing joint degrees in the social sciences and in medicine are a special breed, says Brandt. "We don't expect to train hundreds of people," he said, "we expect to train future leaders." People with this particular training can offer something to the world that is rare and valuable, he said. Brandt and Arthur Kleinman, the Esther and Sidney Rabb Professor of Anthropology at Harvard University, pointed to Paul Farmer, the Maude and Lillian Presley Professor of Social Medicine at the Harvard Medical School (HMS), and Jim Kim, head of the "3×5 program" at the World Health Organization, both of whom graduated from HMS with degrees in medicine and anthropology. "There's no question that the work that these researchers and others are doing is extremely important," said Brandt. "This work brings insights from social science research to benefit clinical care and population health."
Brandt envisions a program in which lab research and social research can interact, enriching the studies and conclusions that students take part in. "We already teach medical students that you need to understand more than just the basic science," said Brandt, pointing to lessons on cultural competency. The social effects and surroundings of medical problems, he argued, "need to be studied side by side with the work done on the lab bench."
The most important aspect of this program, according to Brandt and others, will be the mentorship it will offer. Anne Becker, an HMS associate professor of social medicine who plans to mentor joint-degree students, said that "this is a nontraditional academic program; there's no formula for how to be successful. One seeks out mentors as role models for how to fuse two disciplines that aren't traditionally brought together."
Students in the new track will typically spend two years studying medicine, followed by three or four years studying at Harvard University's graduate school of arts and sciences, before returning to HMS to finish their medical degree.
"I am particularly excited by this new M.D. – Ph.D. program in the social sciences," said Larry H. Summers, president of Harvard University, "because it will create opportunities for blending medicine with the analytic techniques of the social sciences to improve the tools of patient care."