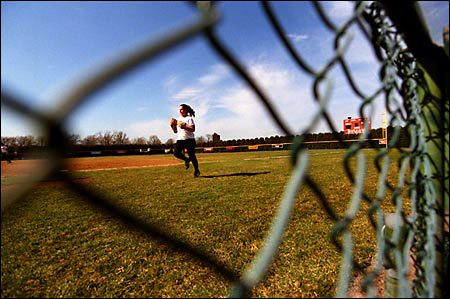 Harvard softball continued its pattern of extreme highs and lows with a pair of losses on Tuesday afternoon (April 12) against a hot-swinging Boston College club in Chestnut Hill, Mass. The non-conference setbacks – a 5-1 loss followed by a 12-2 thumping in five innings in game two – amounts to a three-game losing streak for the Crimson (who also fell to Yale, 4-2, on April 10).
Prior to the Yale loss, the women were riding an eight-game win streak, notable for its doubleheader sweeps of Rhode Island, Quinnipiac, and Brown (all within the friendly environs of Soldier's Field). And, the week before that, they suffered a nine-game losing streak spanning 18 days and three states.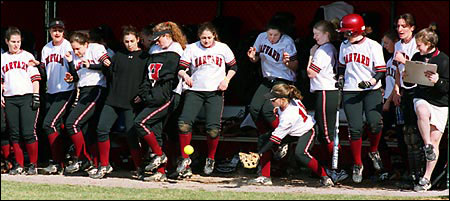 With the season two-thirds complete, the stop, start, and stall Crimson find themselves two games below .500 (10-12-0 overall; 3-1 Ivy) – good for a second-place tie with Dartmouth in the Ancient Eight behind league leader Princeton.
In game one against B.C., junior Kerry Flaherty managed Harvard's only run with her first career homer to knot the score at 1 in the top of the third. All was quiet through the next inning before the Eagles struck back with two runs in both the fifth and sixth innings to capture the game, 5-1. Pitcher Shelly Madick '08, who was named Ivy League Rookie of the Week earlier this month, accepted the loss to fall to 5-3.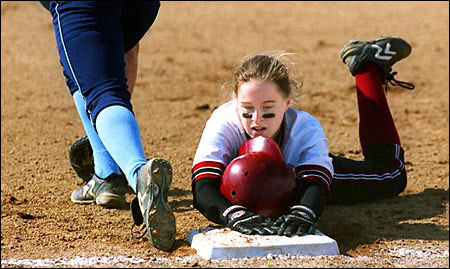 The Eagles continued to sizzle at the plate in the second contest, burning Harvard in the third off a nine-run effort (including a grand slam) on their way to the 12-2 win. On the mound, Crimson sophomore Becky Voaklander and Amanda Watkins '08 together surrendered 11 earned runs.
The softballers will look to bounce back against host Boston University this afternoon (April 14), before traveling to Princeton and Pennsylvania for a pair of doubleheaders this Saturday (April 16) and Sunday (April 17), respectively.