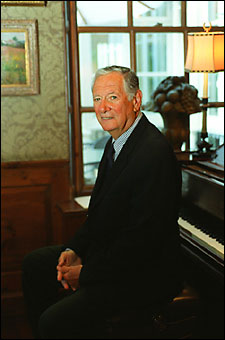 The American Repertory Theatre (A.R.T.) will welcome author, theater critic, writer, teacher, and its founding director, Robert Brustein, for an evening of readings from his new book, "Letters to a Young Actor," at the Zero Arrow Theatre (corner of Arrow Street and Massachusetts Avenue) on May 9 at 6 p.m. Brustein will read from the chapter titled "The Actor and the Critic," answer questions, and sign books. The event is free and open to the public.
"Brustein's 'Letters' reads like a well-worn road map for the aspiring performer," according to The Philadelphia Inquirer, which added: "Brustein's colorful backstage lore and vivid classroom reveries make 'Letters' his most personal book."
As founding director of the Yale Repertory Theatre and American Repertory Theatre, Brustein has supervised well over 200 productions, acting in eight, and directing 12 (including his own adaptations of "The Father," "Ghosts," and "The Changeling"). He has written a dozen adaptations for the A.R.T. and is the author of 13 books on theater and society.
A senior research fellow at Harvard and drama critic for the New Republic, Brustein is a recipient of the George Polk Award in journalism. He is a member of the American Academy of Arts and Letters and the American Academy of Arts and Sciences, and has recently been inducted into the Theatre Hall of Fame.