Roughly two weeks after the Harvard women's hockey team fell to the University of Minnesota, 4-3, in their third consecutive NCAA championship appearance, one might begin to wonder: Is there a new curse in town? While losing three straight games with the national title on the line might seem a little bit freaky (and certainly disappointing), getting to the Big Dance for three straight years – particularly this year – is also something quite extraordinary.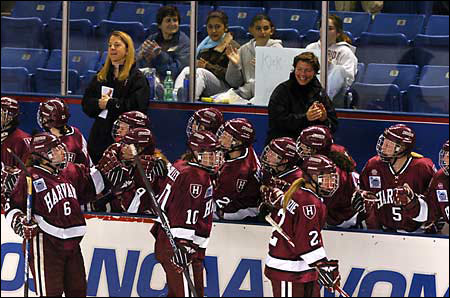 After all, 2005 marked the first time since the inception of the women's tournament that postseason play was expanded to a field of eight teams. Consequently, unlike last year's campaign, which culminated in a 6-2 defeat to the University of Minnesota in the championship game, which itself fell on the anniversary of Harvard's excruciating 4-3 double overtime loss to the other Minnesota powerhouse, Duluth, for the 2003 crown, this year's Crimson had to survive two rounds of top-notch competition – including a triple overtime marathon against Mercyhurst on March 19 in the quarterfinals, and a tussle with St. Lawrence in the semis the following weekend – before even lacing up against the Gophers.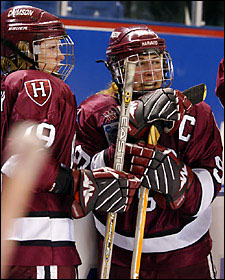 What's more, beginning back in November, the team had to adjust to the absence of three key contributors in Mina Pell, Lauren McAuliffe, and Patty Kazmaier Memorial Award winner Angela Ruggiero (all of whom were lost to graduation). And adjust they did. After tallying a winning but rocky 7-6-1 record in the early going, coach Katey Stone's club rang in the New Year by going on a 21-game unbeaten streak (19-0-2), shattered by Minnesota in the March 27 title game.
Harvard never led at the Whittemore Center despite managing a narrow shot advantage (26-24), and enjoying three more power play opportunities than the Gophers, as Harvard finished 2-for-5 with the extra skater, and Minnesota went 1-for-3. Down 3-2 in the third period, the Crimson appeared poised to force an overtime after sophomore Caitlin Cahow's power-play goal knotted the score at 3 with just over five minutes remaining. Harvard soon found itself in an all-too-familiar spot, however, when Natalie Darwitz poked a rebound past junior keeper Ali Boe (20 saves) to net the game winner with just 68 ticks left on the clock, handing Harvard its third straight runner-up finish. The team finished at 26-7-3.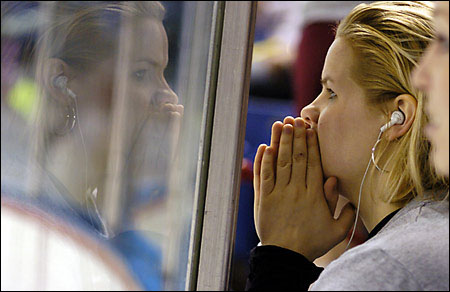 On the season, the Crimson produced a pair of Patty Kazmaier Memorial award finalists in Julie Chu '06 and Nicole Corriero '05, who, in addition to tying the all-time collegiate record for goals (in both men's and women's) with 59, well above the previous number of 46, was named ECAC and Ivy League Player of the Year. The league also named freshman Sarah Vaillancourt its rookie of the year. Meanwhile, earlier this month, mentor Katey Stone was named 2005 New England Hockey Writers Coach of the Year.