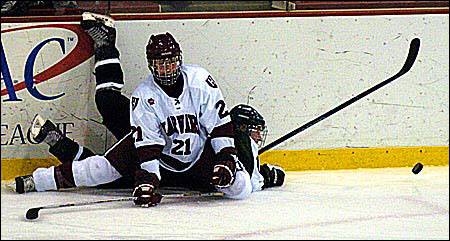 After beating Dartmouth goalie Kate Lane early in the first period this past Friday (Feb. 25) at Bright Hockey Center, Laura Brady '08 briefly paused, scanned the visitor's cage, glanced at her teammates for confirmation, and only then proceeded to celebrate her third goal of the season. Against the fiery Big Green, such composure proved invaluable for the Crimson, who, despite building a 3-0 lead after the first 20 minutes of hockey, withstood a late-surging Dartmouth club to capture the contest, 4-3, and their sixth Ivy League title to boot.
Dartmouth avoided the shutout, and then some, at 11:48 of the second period to close the gap, 3-1. The No. 3 Big Green went on to outshoot their rivals 13-4 in the middle frame, cutting the lead to 3-2 after Katie Weatherston tapped in a rebound past third-year netminder Ali Boe at the 16:46 mark.
Sophomore Lindsay Weaver quickly answered the call for Harvard, however, notching the eventual game winner from the blue line two minutes later to close out the tense period. And though Dartmouth managed one last goal in the final frame, Harvard matched the determined visitors with some aggressive play of its own – killing two power-play opportunities and tallying an equal amount of shots and one less save in the third period (7 and 6, respectively) – to preserve the 4-3 score.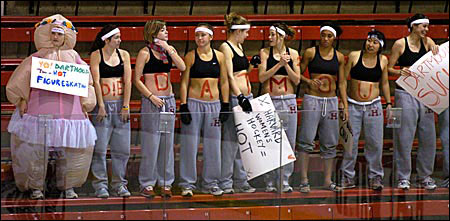 The following day (Feb. 26), the newly minted Ivy champs easily put away visiting Vermont, 7-1, to clinch the ECAC regular season title outright (Harvard's third-straight). Nicole Corriero '05 collected three assists and a pair of goals against the Catamounts to help her team clinch its 400th victory in program history. Only four other clubs in the history of women's hockey have recorded as many wins. The Crimson, meanwhile, close out its 2004-05 campaign at 20-6-3 (17-1-2, ECAC).
Next up, the top-seeded women host a best-of-three series against Clarkson on March 4-6. The series kicks off Friday (March 4) at 7 p.m. The winners of the other four first-round contests will advance to the ECAC championship, to be held March 12 and 13 at Union College. Meanwhile, the team's male counterparts, who dropped a tough 2-1 OT decision to Dartmouth and tied Vermont, 2-2, over the weekend, return to action on March 11 in the ECAC quarterfinal at home. Visit http://www.gocrimson.com for updates.
In individual news, freshman Sarah Vaillancourt was recently named to Canada's National Team for April's International Ice Hockey Federation's Championships in Sweden. She joins Harvard great Jennifer Botterill '02-03 and 18 other Canadian nationals named to the club.