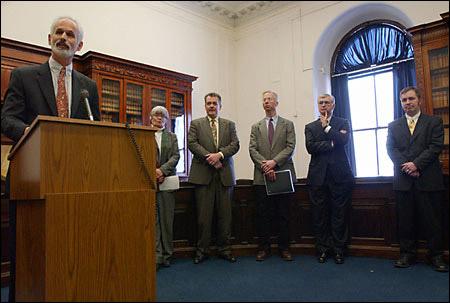 Harvard has joined a new coalition of universities, hospitals, patient organizations, business groups, and scientific societies whose aim is to support embryonic stem cell research in Massachusetts and, specifically, to support pending legislation on stem cell research in the Massachusetts legislature.
The group, Massachusetts Citizens United for Research Excellence, or MassCURE, was launched at a news conference at the Massachusetts State House in Boston on Wednesday (March 16).
The group marked its birth with the release of a new poll that shows that Massachusetts residents overwhelmingly support embryonic stem cell research, including a technique known as somatic cell nuclear transfer (SCNT), or therapeutic cloning.
---
For additional information on MassCURE
---
The poll, conducted March 7 to March 9, surveyed 606 registered voters about their attitudes toward embryonic stem cell research. The poll showed that 81 percent of Massachusetts adults support a bill pending in the state legislature that would encourage stem cell research, permit somatic cell nuclear transfer, and ban cloning to create new life.
"The survey results clearly show that Massachusetts voters strongly support embryonic stem cell research. Voters showed a similarly high level of support for SCNT research," said Pam Solo, president and chief executive officer of the Civil Society Institute, a member of MassCURE, and the poll's sponsor.
The poll has a margin of error of plus or minus 4 percent.
Paul Guzzi, president and chief executive officer of the Greater Boston Chamber of Commerce, said the chamber supports the legislative effort for several reasons. Stem cell research, he said, has the potential to alleviate suffering by providing a cure for debilitating diseases.
Guzzi said there are several economic reasons to support the legislation. Greater Boston is a leader in the life sciences, but if it wants to retain that leadership, stem cell research is critical. The legislation, he said, is a signal to all life science researchers, not just those working on embryonic stem cells, that the region welcomes them.
Paul Levy, president and chief executive officer of Beth Israel Deaconess Medical Center, said embryonic stem cell research is about the dignity of human life and goes to the core of the institution's mission to alleviate suffering due to disease. Levy said the poll results, while dramatic, were not surprising when one considers the number of people who are afflicted – or who know someone afflicted – with a disease that can potentially be cured or treated through stem cell research.
Two Harvard researchers spoke at the news conference, Associate Professor of Surgery Jeffrey D. Macklis, director of the Massachusetts General Hospital and Harvard Medical School Center for Nervous System Repair, and Research Fellow in Biological Chemistry and Molecular Pharmacology at Children's Hospital William Lensch.
Macklis clarified claims by opponents of embryonic stem cell research that he said were misleading. He said that research on human embryonic stem cells is newer than opponents have claimed and that embryonic stem cell research in mice has already led to many new insights leading to important tools and insight into understanding disease.
Macklis, whose own research is on adult stem cells, said he knows of several colleagues working on embryonic stem cells whose work has been slowed dramatically because of federal restrictions and regulatory uncertainty in Massachusetts.
In response to questions, Lensch said it's difficult to tell how far research has been slowed by federal restrictions and by cumbersome requirements in Massachusetts laws that the pending legislation is designed to address.
"Who knows where we'd be now if those limitations were not there," Lensch said. "To me, it's apparent that we'd be further along than we are now."