Film and television actor Sharon Stone will receive the Harvard Foundation's 2005 Humanitarian Award when she delivers the annual Peter J. Gomes Humanitarian Lecture at the Memorial Church on Monday (March 14) at 7 p.m.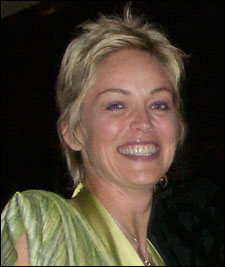 Stone has been a staunch supporter of AIDS research since she became the chair of the American Foundation for AIDS Research's (amfAR) Campaign for AIDS Research on World AIDS Day in 1995. AmfAR is the nation's leading nonprofit organization dedicated to the support of AIDS research, AIDS prevention, treatment education, and the advocacy of sound AIDS-related public policy.
"Sharon Stone is an enlightened and compassionate advocate for AIDS awareness and the humane treatment of its victims throughout the world," said S. Allen Counter, director of the Harvard Foundation. "Her dedication to improved health care for the world's poor and to world peace is unwavering. Harvard is proud to honor Sharon Stone's extraordinary contributions to the fight against AIDS, and we salute her fine humanitarian example."
"Sharon Stone's commitment and special efforts to improve support of AIDS research and AIDS awareness among people throughout the world should be commended," said Max Essex, chairman of the Harvard School of Public Health AIDS Initiative.
Stone, a widely acclaimed actress, began her acting career in Woody Allen's 1980 "Stardust Memories." In 1995, Stone won her first Golden Globe and an Oscar nomination for her portrayal of the troubled wife of Robert De Niro in "Casino." Her other awards include five Golden Globe nominations and a 1997 Emmy for her character, Sheila Carlisle, in "The Practice."
The Peter J. Gomes Humanitarian Lecture was created to honor the life and work of the Rev. Professor Peter J. Gomes, Plummer Professor of Christian Morals and Pusey Minister in the Memorial Church, who along with President Derek C. Bok founded the Harvard Foundation. The Humanitarian Award bears the signatures of Harvard's President Lawrence H. Summers, Dean of Harvard College Benedict H. Gross, and Harvard Foundation Director Counter.
Previous recipients of the Humanitarian Award have included Per Wästberg, chair of the Nobel Prize Committee of the Swedish Academy; James Earl Jones, national and international advocate for education; David Ho, AIDS researcher; Bishop Charles E. Blake, head of the Save Africa's Children AIDS orphanages; and to Nobel laureates Archbishop Desmond Tutu, John Hume, Elie Wiesel, and Jose Ramos Horta.