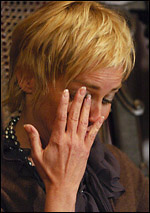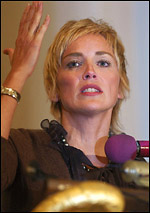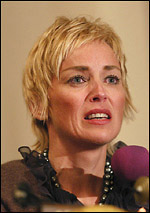 Award-winning actress Sharon Stone, who for the past 10 years has been a dedicated fundraiser and advocate for AIDS research, received the Harvard Foundation's 2005 Humanitarian Award Monday evening (March 14) at the Memorial Church.
Stone, who serves as chair of the American Foundation for AIDS Research Campaign, also delivered the annual Peter J. Gomes Humanitarian Lecture. In her speech to a crowd of about 200 members of the Harvard community, Stone urged listeners to reject cruelty and meanness and to look at obstacles in life as opportunities for growth.
In a heartfelt 30-minute talk, Stone reflected on the lessons she learned from the adoption of her son, Roan, and the wonder she felt just looking at him. At what point in our lives, she asked, do we lose that wonder and how can we get it back?
Stone said the world's great leaders, such as Nelson Mandela and Mahatma Gandhi, were created through suffering, and all shared a dream of peace that has survived their deaths.
"Peace does exist. It exists in your heart and soul," Stone said.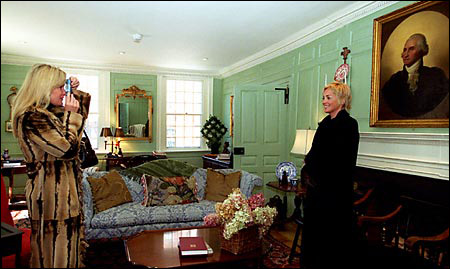 Harvard students, she said, are blessed with an opportunity to have an impact on the world's future and are at a place that offers encouragement and a sense of purpose.
"You here have a great, great opportunity to forge and create the future," Stone said. "When Martin Luther King said, 'I have a dream,' he wasn't dreaming – and that dream belongs to you."
Stone, whose acting career has earned her Golden Globe and Emmy awards as well as an Oscar nomination, was introduced by Harvard AIDS Initiative Chairman and Chair of the Harvard School of Public Health's Department of Immunology and Infectious Diseases Max Essex, who said that 25 million people will die of AIDS in the next decade unless the situation is changed. He called Stone a "tireless advocate" and "an inspiration" in the fight against AIDS. He placed Stone in rarified air, saying that over the past decade two public figures have stood out and impressed him with their commitment and advocacy on the subject: Nelson Mandela and Sharon Stone.
Stone was also introduced by several undergraduates, who thanked her for inspiring them with her dedication to a difficult cause, and by Harvard Foundation Director and Associate Professor of Neurology S. Allen Counter. Counter said Stone was "the embodiment of humanitarianism" and has worked tirelessly to raise millions of dollars for AIDS research.
"We salute her humanitarian example," Counter said.
AIDS has killed more than 20 million since the human immunodeficiency virus (HIV) was identified in 1981, with an estimated 38 million living with HIV in 2003, according to estimates by the Joint United Nations Programme on HIV/AIDS (UNAIDS). AIDS killed an estimated 3 million in 2003, while an estimated 5 million became newly infected with the AIDS virus, according to UNAIDS.
The Peter J. Gomes Humanitarian Lecture was created to honor the life and work of Harvard Foundation founder, the Rev. Professor Peter J. Gomes, the Plummer Professor of Christian Morals and Pusey Minister in the Memorial Church. Gomes is on leave this spring. Previous recipients include Nobel laureates Archbishop Desmond Tutu, John Hume, Elie Wiesel, and Jose Ramos Horta; actor and education advocate James Earl Jones; AIDS researcher David Ho; and head of Save Africa's Children AIDS orphanages Bishop Charles E. Blake.
Stone attended several events at the School of Public Health Monday afternoon, including a reception and an event where she discussed the challenges of fighting AIDS with students who are planning to work on the disease.
Stone told the students that her life has been touched by the disease for far longer than the 10 years she's has been working publicly on AIDS. Several people she knew from her early career in the fashion industry died of AIDS. She urged the students to take care of themselves, physically and spiritually, so that they aren't debilitated by the stress of working with a disease that takes such a horrible human toll.
Though the students are finishing work on degrees at Harvard, most had some prior experience working with the disease. Pride Chigwedere, a physician from Zimbabwe studying at Harvard, said he did his residency in a hospital where AIDS exacts such a terrible price.
Doctors had no medicines to fight HIV and no drugs to treat the infections and diseases that kill AIDS patients as their immune systems fail.
"My duty was reduced to certifying people as dead and was reduced to explaining to people that we did all we could, when in fact we did nothing," Chigwedere said.