Nine Harvard-related students are among the 30 recipients of this year's Paul and Daisy Soros New American Fellows. Fellows receive up to a $20,000 stipend plus half-tuition for as many as two years of graduate study at any institution of higher learning in the United States.
Now in its eighth year of operation, the Paul and Daisy Soros Fellowships for New Americans have already become one of the most highly recognized and sought-after awards for graduate study in the United States. Almost 1,000 applicants, who are naturalized citizens, resident aliens, or the children of naturalized citizens, completed applications this year. They represented 141 countries of national origin and came from 360 colleges and universities.
About the Harvard students, director of the program Warren Ilchman noted, "These candidates truly exemplify the kind of creative, multitalented, and extraordinarily accomplished New American that Paul and Daisy Soros want to honor and support through this program."
This year's Harvard-affiliated Soros Fellows are as follows:
Hani Elias is a senior at the College concentrating in social studies. A Gates Millennium Scholar and John Harvard Scholarship recipient, Elias was the sole sophomore recipient of the Harvard University Human Rights Committee Grant. Elias has served as an undergraduate student fellow at the Center for International Development, and has been a research assistant at both the Harvard School of Public Health and the Harvard Initiative on Global Health. Additionally, he is the co-founder, CEO, and chairman of CollegeCorps Inc., a nonprofit organization that aspires to improve the lives of the world's poorest while exposing undergraduates to the ongoing challenges of international development. The program has received a grant from the Gates Foundation. Born in Dhahran, Saudi Arabia, in 1983, Hani is a naturalized citizen. His parents live in Mukilteo, Wash. Elias will enter Harvard Law School (HLS) in the fall with the intention of combining his interests in law and public health.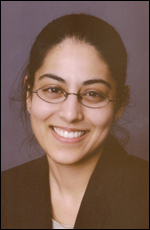 Meenakashi Gupta is an M.D. candidate at Harvard Medical School (HMS). She received her B.A. in biology, magna cum laude, from the University. She was a recipient of an Albert Schweitzer Fellowship, a John Harvard Scholarship, and an HMS Office of Enrichment Programs Research Grant. As a summer intern in the Department of Neurosurgery at Boston Children's Hospital, she studied the treatment of spinal cord injury with neural stem cells. Her undergraduate research in the Department of Neurobiology at HMS focused on identifying genes involved in the hearing process. As a high school student, working in a laboratory at the New York State Department of Health, Gupta conducted DNA analysis for mutations causing Lou Gehrig's disease. She founded and directed Chef it Up! to combat and prevent obesity and founded the Voices Enrichment Program, a youth empowerment program that fosters civic engagement in children. Gupta was born in Albany, N.Y., to parents who emigrated from India. They are now naturalized citizens and reside in Slingerlands, N.Y. She plans a career as a physician scientist with special interest in such neurological disorders as Lou Gehrig's disease.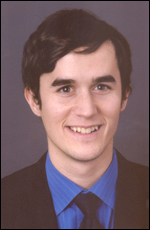 Conor Liston is an M.D./Ph.D. candidate at the Weill Cornell/Rockefeller/Sloan Kettering Tri-Institutional Medical Scientist Training Program, where he is on a Keck Foundation Fellowship for his work. He graduated Phi Beta Kappa (PBK) and summa cum laude from Harvard University with a B.A. in psychology and biology. At Harvard, he worked in the Laboratory of Neurophysiology, focusing on sleep and learning, and the development of memory in infants. Liston has also worked at the Gilbert Laboratory of Rockefeller University on the issue of visual processing. He is currently working on the specific issues of cognitive control and chronic stress, and has co-authored numerous publications and been involved in several conferences dealing with the brain and cognitive neuroscience. Liston was born in San Diego to parents of Irish descent in 1980. He grew up in Wisconsin, where his parents still live. He intends a career as a physician scientist.
Siddharth Mohandas is a Ph.D. student in the Department of Government at Harvard University. He received his B.A., summa cum laude, in government from Harvard and was elected to PBK as a junior. He also completed an M.Phil. in international relations from Cambridge University. As an undergraduate, Mohandas edited the Harvard Asia Pacific Review and interned as a speechwriter for UN Secretary-General Kofi Annan. Prior to entering graduate school, he served as an associate editor of foreign affairs. He has also written for various publications including Newsweek and the Christian Science Monitor, and worked at the Center for Strategic and International Studies in Washington, D.C. Born in Bombay, Mohandas became a naturalized citizen at the age of 13, but spent most of his life in Singapore, where his family still resides. He intends a career as a professor, public intellectual, and policy-maker.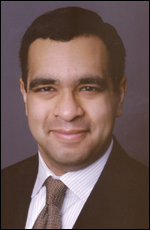 Gautam Mukunda is a Ph.D. candidate in international relations at the Massachusetts Institute of Technology (M.I.T.) in a program focusing on the implications of emerging technologies. He received a B.A., magna cum laude, in government from Harvard and has done work at the Tuck School of Business at Dartmouth College. At Harvard, Mukunda was a captain of the Harvard College Bowl Team and served on the Government Department Undergraduate Advisory Council. He has worked as managing director of The Two Rivers Group and as a business analyst for McKinsey & Company. He founded a mathematics education company called Excelsior Education. Gautam serves as chair of the mentorship committee for Upakar, a national nonprofit that provides college scholarships for underprivileged Indian Americans. He was born in 1979 in Washington, D.C., to parents of Indian origin. While he intends a career as a scholar-teacher, he also aspires to policy responsibilities.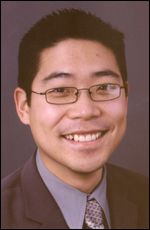 Andrew Park is a D.Phil. candidate in comparative social policy at Oxford University, where he is a Rhodes Scholar. He graduated with a B.A. from Harvard in economics, magna cum laude, and PBK. He plans to enter law school in the fall with the hope of furthering the progress of civil rights for lesbian, gay, bisexual, and transgender Americans and minority populations. At Harvard, he was the president of the Harvard-Radcliffe Asian American Association and executive vice president of the Phillips Brooks House Association. He is also an internationally recognized concert pianist, having given solo tours in both Japan and across the United States. At Oxford, he continues his piano performances as well as working with the Kigali Public Library Project, an initiative to open the first public library in Rwanda after the genocide. Park was born in Chicago in 1979 to parents of Korean descent.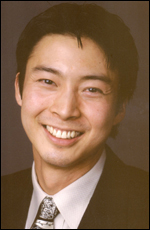 Jeff Sheng is currently an M.F.A. candidate in studio art at the University of California, Irvine, where he is preparing for a career in photography, teaching visual studies, and engaging in social advocacy. He received his B.A., magna cum laude with highest honors, from Harvard University in visual and environmental studies, specifically photography and filmmaking. He spent a year on a Harvard-Yenching Fellowship at Peking University in Beijing. In addition to experience with the computer and gallery worlds, Sheng has volunteered for the California Association of Student Councils and taught English as a second language at Harvard. He has exhibited his work at galleries around Boston and has published his photography in such publications as OUT Magazine, the New York Times Magazine, and the Boston Globe. Sheng was born in Santa Barbara, Calif., to parents who emigrated from Taiwan and became naturalized citizens in 1989.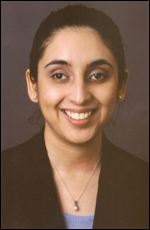 Jasmin Sethi is in a joint J.D./Ph.D. program at HLS and the Harvard Department of Economics. She received her B.A., magna cum laude, from Harvard in applied mathematics and economics. A Fulbright Scholar to England, Sethi received an M.Sc. in economics from the London School of Economics. At Harvard, she is an academic adviser and nonresident tutor. She was on the Political Economy Lecture Series Committee and served on the Harvard Graduate Council. She worked as a research assistant at the Kennedy School of Government, the President's Council of Economic Advisers, the National Economic Research Associates, and the Congressional Budget Office in Washington, D.C. Sethi was born in New York City in 1978 to parents who emigrated from India and are now naturalized citizens. She seeks to increase opportunities for the disadvantaged both by working to develop social policy legislation and by litigating questions pertaining to the application of federal law and the interpretation of the Constitution.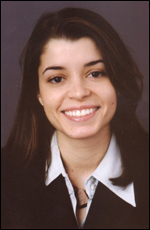 Viviany Taqueti was born in 1981 in Vila Velha, Brazil, and was naturalized in 2004. When she was seven years old, her family emigrated from a small town in the Amazon River Basin to Danbury, Conn., where her parents now live. An M.D. candidate at HMS in the Harvard-M.I.T. Division of Health Sciences and Technology, Taqueti received her B.A. in biochemical sciences from Harvard University, summa cum laude, and PBK. As a recipient of the Howard Hughes Medical Institute Research Training Fellowship, she is studying ways to model cardiac inflammation at Brigham and Women's Hospital. She is co-author of a new immunology review text, as well as articles on leukocyte adhesion and medical simulation, and has interned at the New England Journal of Medicine and served as editor-in-chief of the Harvard Science Review. An Albert Schweitzer Fellow, she is carrying out a project aboard the Family Van, a mobile health center serving Boston's poor neighborhoods. Previously, Taqueti volunteered as a translator for the nonprofit Esperança Foundation clinic in the Brazilian Amazon. She intends to pursue interests in clinical medicine, scientific research, and medical education in an academic health center.
The Paul and Daisy Soros Fellowships for New Americans was established in 1997 as a charitable trust of $50 million to assist New Americans in furthering their careers through graduate education. The donors, both New Americans themselves, created the trust as a way to thank the United States for the life it has provided them. Since its inception, 202 fellowships have been given. Currently 62 Soros Fellows are at 17 universities studying 17 different subjects. The program also has 140 alumni.