John Edwards to be visiting fellow at IOP during spring semester
Former senator and Democratic vice-presidential nominee John Edwards will be one of three visiting fellows at the Institute of Politics (IOP) this spring. The other fellows are U.S. Rep. Jim Kolbe (R-Ariz.) and Michael Deaver, former deputy chief of staff to President Ronald Reagan and international vice chairman for Edelman Worldwide.
Visiting Fellows join the IOP for a limited part of each semester to interact with students, faculty, and Harvard research centers. Visiting Fellows traditionally take part in some or all of the following activities at the Institute: meet with various student groups to discuss topical issues and their experiences in public and political service; give a public address in the John F. Kennedy Jr. Forum; and participate in a public policy class with students and Kennedy School faculty.
"This impressive group brings a wealth of political, legislative, and governmental experience to Harvard," said Phil Sharp, director of the Institute of Politics. "I know that their enthusiasm for politics and civic engagement will help excite and interest students and the public alike."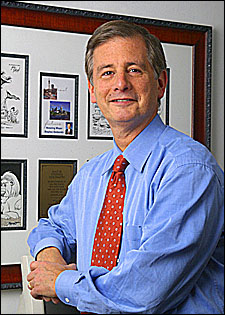 Stephen Goldsmith to hold Daniel Paul Professorship
The Kennedy School of Government (KSG) has announced that Stephen Goldsmith will be the first to hold the title of Daniel Paul Professor of Government. Goldsmith, who serves as director of the Innovations in American Government Program at KSG, joined the School's faculty in June 2001 after serving two terms as mayor of Indianapolis and as chief domestic policy adviser to the George W. Bush presidential campaign in 2000.
Daniel Paul '46 (L.L.B. '48, M.P.A. '49) is a distinguished attorney and former member of the Harvard Board of Overseers. The professorship in his name, established in 2001, will focus on regional, state, and municipal governance, as well as public policy.
Two undergrads named USA Today All-Academic
Harvard students Melissa Dell '05 and Nina Vasan '06 were recently named to the first and third teams, respectively, of USA Today's All-USA College Academic Program. Dell and Vasan joined 58 other students nationwide to be recognized by the publication for extending their scholarship "beyond the classroom."
– Compiled by Andrew Brooks