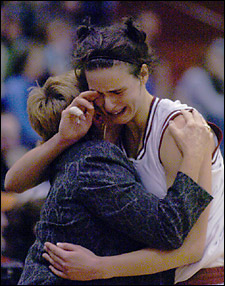 Less than a week after crashing Dartmouth's would-be Ivy clinching party with a 70-67 come-from-behind win (a victory that served to snag the Harvard women's basketball team a share of the league prize), the Crimson were turned away from the Big Dance. The snub followed the teams' most recent match-up this past Saturday (March 12) in Providence, R.I., – a one-game showdown to determine which of these two clubs would represent the Ancient Eight in the NCAA tournament. After constructing a 12-point halftime lead on 53 percent shooting, an aggressive Dartmouth squad went on to demolish the Cambridge gang, 75-61, and close the door on Harvard's postseason hopes.
All-Ivy second-team selection Angela Soriaga led the Dartmouth charge with 22 points to pace the hot-shooting Big Green, which managed a 48 percent effort from the field on the afternoon. The Crimson, meanwhile, shot just 38 and 32 percent in the first and second halves, respectively, and went a paltry 6-of-30 from three-point range. Dartmouth also bettered Harvard in the rebound department, grabbing 12 more boards (44 to 32), and, perhaps most crucially, limited Ivy League Player of the Year Reka Cserny '05 to 15 points, six below her average. Cserny and company did prove effective in the paint, however, combining for 30 points to match Dartmouth's output.
With the loss, the Ivy co-champs wrap up their season at 20-8 (12-3 Ivy), as three seniors, including Cserny, Rochelle Bell, and Katie Murphy (who notched four rebounds, three assists, and two steals against the Hanover club) hang up their Crimson jerseys.