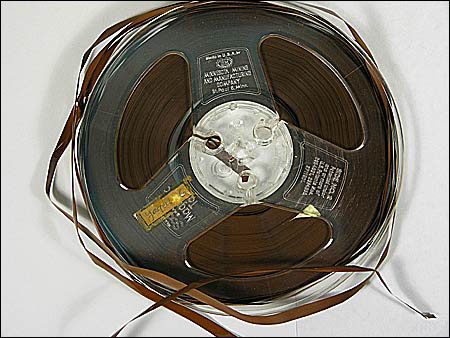 In February, the Harvard Archive of World Music at Loeb Music Library, a unit of Harvard College Library, and the Indiana University Archives of Traditional Music received a grant from the National Endowment for the Humanities for "Sound Directions: Digital Preservation and Access for Global Audio Heritage," a project to create best practices and test emerging standards in the digital preservation of endangered sound recordings.
Audio archives have reached a critical point in their history, marked by the rapid deterioration of original recordings, the development of new digital technologies, and the decline of analog formats and media. In order to ensure that valuable sound recordings endure into the future, it is vital that tested and secure methods of digitization and storage that can be adapted widely are established. The goal of the Sound Directions project is to ultimately create interoperable audio files, that is, files that can be read by multiple institutions over time to ensure preservation in the event of catastrophic loss at one institution.
"This is a groundbreaking project that attempts something that has never been done before – the creation of interoperable audio files," said Virginia Danielson, Richard F. French Librarian of the Loeb Music Library. "Our project will test and examine best practices for every part of the audio digitization process from the selection of materials to their deposit in a robust storage facility."
---
More about Archive of World Music
More about Sound Directions project
---
According to Danielson, this collaboration brings together the audio preservation procedures established by Loeb Music Library, the technological infrastructure for storage of audio digital files created by Harvard's Office for Information Services (OIS), and the digital library program developed at Indiana University (I.U.). Other Harvard staff involved in the project include audio preservation engineer David Ackerman, an internationally recognized leader in the development of audio preservation; Sarah Adams, Donna Guerra, Candy Feldt, and Connie Mayer from Loeb Music Library; and Robin Wendler and Steve Abrams from OIS.
"Sound Directions" will unfold over the next 18 months. The recordings chosen as test cases from both Harvard and I.U. archives will be drawn from their rich ethnographic field collections and are historically significant, unique, and in fragile condition. Selections from the Archive of World Music will include South Asian classical, folk, and tribal music; music from Iran and Iraq from the 1920s to the 1970s; Turkish classical music; rare Indian recordings, and popular music recorded in Cairo in the early twentieth century. Selections from I.U.'s Archives of Traditional Music include music of Iraqi Jews in Israel, music from pre-Taliban Afghanistan, African-American protest songs from the 1920s through the 1940s, and music related to the world's longest-running civil war, in Sudan.
At the beginning and conclusion of the project, an advisory board of nationally renowned technical experts from the Digital Library Federation, Library of Congress, and private industry will advise and evaluate the project's results. If all goes as planned, the board will pass recommendations along to the digital standards producing agencies for wide deployment.
"We are grateful to the National Endowment for the Humanities for its generosity and continuing leadership in support of preservation," said Nancy M. Cline, Roy E. Larsen Librarian of Harvard College. "Our grant will draw on the different strengths of the two institutional archives, emphasizing experience with access and with preservation, to develop practices and standards that will result in interoperable preservation files of audio content. NEH grants such as this enable universities and other cultural institutions to carry out important research that will benefit future preservation."