As of March 1, the Harvard Libraries Web site features a new service to provide e-mail alerts based on the tables of contents (TOC) for new issues of approximately 15,000 print and electronic journals purchased or licensed by the Harvard Libraries. The new TOC service, powered by software from TDNet, may be accessed from a link under "Conducting Research" on the Harvard Libraries site at http://lib.harvard.edu
Harvard users can take advantage of the new TOC service in several important ways. Researchers can request e-mail alerts that contain complete tables of contents for prespecified journals as new issues are published. Researchers can also request alerts for new article titles containing designated keywords or author names from any journal on the site.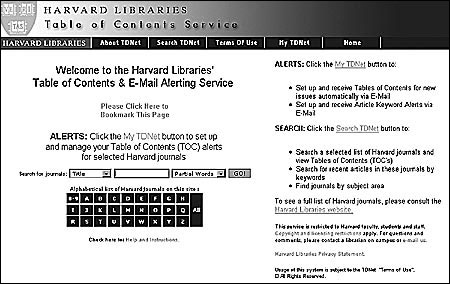 According to Associate Harvard College librarian Lynda Leahy, the new centralized service offers significant advantages to users. "First," Leahy said, "Harvard users can work within a single framework that searches recent issues of 15,000 journal titles – a number that will continue to grow. Second, users can establish one or more 'profiles' with the TOC service. Third, based on these profiles, the service will deliver alerts on a planned basis – generally on Sunday nights.
"But the greatest convenience," Leahy noted, "is that both the e-mail alerts and online tables of contents contain 'Find It @ Harvard' buttons. In short, you can link directly to the full text – assuming that it's available to Harvard users. You can also link directly to the HOLLIS Catalog record for the journal to find it among the Harvard libraries."
In order to set up alerts for particular journal titles and/or keywords in the titles and authors of articles, a user must set up one or more profiles, including a user name and password. Groups of individuals who share a common interest or area of study can share a group profile, which will allow them to receive the same tables of contents and keyword alerts via e-mail.
According to Leahy, the new service is available to Harvard faculty, students, and staff who have valid Harvard IDs and PINs. The URL for the table of contents service is http://nrs.harvard.edu/urn-3:hul.eresource:tdnetxxx. The site can be bookmarked from a link on the home page. Questions and comments should be directed to librarians on campus or they can be e-mailed to libraryalerts@hulmail.harvard.edu.
– Peter Kosewski