CERtoon winners honored by Greenies
The Harvard Green Campus Initiative held an awards luncheon Wednesday (March 23) to honor the winners of the 2005 CERtoon ("carbon emissions reduction") Cartoon Competition. The cartoons, submitted by Faculty of Arts and Sciences students, deal with energy conservation and renewable energy.
The goal of the competition is to promote environmental awareness and resource efficiency through art, humor, and creativity. An exhibition of the finalists' work will be on display in Lamont Library throughout the spring semester. Visit http://www.greencampus.harvard.edu/CER for more information.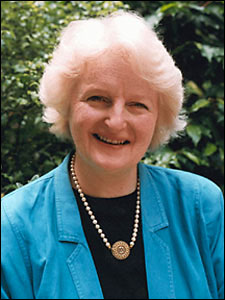 Rabbi Neuberger to speak on 'Dying Well'
Internationally known broadcaster, author, and medical ethicist Rabbi Julia Neuberger will join the Faith & Life Forum at Memorial Church to speak about her new book "Dying Well" on April 4 at 7:30 p.m. Conversant with today's health care issues, Neuberger brings to her work a deep knowledge of the religious attitudes, rites, and rituals distinctive to our religious traditions. Based in London, she is the former chief executive of the King's Fund, an independent health care charity, and was the chancellor of the University of Ulster from 1994 to 2000. She is the author of several books on Judaism, women, health care ethics, and caring for the dying.
Faith & Life Forum events are free and open to the public. For more information, visit the church's Web site at http://www.memorialchurch.harvard.edu or call (617) 495-5508.
Piano master Jones to be honored at University
Legendary jazz pianist Hank Jones will kick off a brief residency at the University on April 8. Sponsored by the Office for the Arts and Harvard University Jazz Bands, "Thanking Hank: A Salute to Hank Jones," will include a discussion (free and open to the public) on April 8 at Cabot House at 3:30 p.m., and a concert featuring saxophonist Joe Lovano on April 9 in Sanders Theatre at 7 p.m.
Tickets for the latter are $15 ($8 for students and seniors), and can be reserved through the Harvard Box Office at (617) 496-2222. For more information, visit the Office for the Arts at http://www.fas.harvard.edu/~ofa/.
– Compiled by Andrew Brooks