Just days after President Bush returned from a fence-mending visit overseas, France's defense minister told a Harvard audience that Europe and the United States are positioned to overcome their differences on Iraq and work together in confronting a range of world challenges.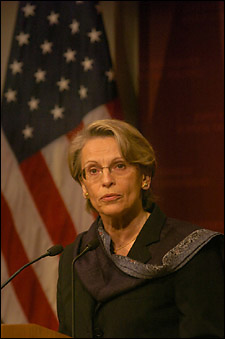 Addressing several hundred students and faculty members at the John F. Kennedy Jr. Forum on March 11, Michèle Alliot-Marie stressed the historic ties between the continents and said they "have to agree on common objectives and how to achieve them."
"A close strategic dialogue based on confidence is vital to better assess together the risks affecting our security," she said. "Without it, there can be no lasting prosperity."
The top global security priorities, according to Alliot-Marie, are bringing lasting peace to the Middle East, bringing "stabilization" to Iraq, stopping the proliferation of weapons of mass destruction, encouraging development in Africa, and building stronger partnerships with Russia and China.
Alliot-Marie also discounted concerns that a strong European Union (E.U.) poses a threat to the United States, saying that the E.U. instead represents a "prospective partner" with the United States and one that is "able to shoulder its share of responsibility" on the world stage.
"This is particularly important at a time when the end of the Cold War has given rise to an uncertain world," she stated.
Student questions covered a broad range of issues, from African defense to the encouraging developments taking place recently in Israel.
Regarding Iran, Alliot-Marie defended the E.U.'s strategy of using economic incentives to entice Tehran to further open its society to Western influence.
"We have a real capacity to influence them," she said. "If we let them close back on themselves then we are faced with a true risk that they will develop nuclear weapons because they feel threatened."
Alliot-Marie expressed optimism about recent developments in Beirut and the chances for real democratic reforms.
"In Lebanon we have worked together. We worked for [United Nations] Resolution 1559 and today we are working to try to obtain from Syria that it respect totally and quickly the resolution," she said. "So I think this is a good example of what we can do when we agree and when we are together, but I think and I hope it is a first step toward a solution of the problem of the whole Middle East."
Alliot-Marie's forum appearance was co-sponsored by the Kennedy School's Women and Public Policy Program (WAPPP), the Francophone Society, and the Institute of Politics.