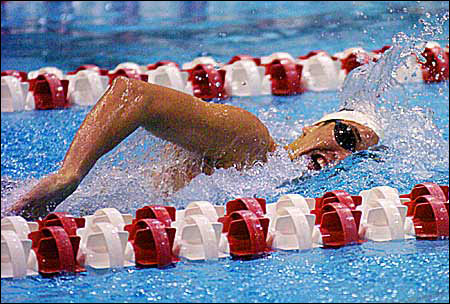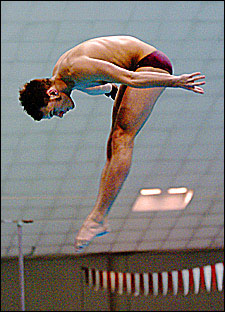 Distance freestyler John Cole '05 closed out his final year as a member of Harvard's swimming and diving team in dazzling, record-setting fashion this past weekend in Eastern Intercollegiate Swimming League (EISL) championship action at Blodgett Pool. Of course, after his latest string of victories (the upperclassman took first in the individual 500-, 1,000-, and 1,650-yard freestyle events on March 3, 4, and 5, respectively), Cole's success in the EISL champs has become something of an old hat.
Consider this. At these recent EISL champs, Cole became the first swimmer in league history to take the three distance events in each of his four collegiate seasons. And for the fourth time in his career, Cole was again crowned with the Phil Moriarty Award, which is given to the meet's top swimmer. The senior also picked up the Harold Ulen Award for tallying a meet-high 192 individual points – some serious production that helped his Crimson capture the dual Ivy/EISL championship (the program's 19th overall and eighth since 1995) with a 96.5 point advantage over perennial heavy Princeton. Harvard fell to the Tigers a season ago – the same year Cole was out training for the Olympics.
Rounding out the competition, Columbia took third place with 1,040.5 points, ahead of Yale (872), Cornell (820), Penn (711.5), Brown (689.5), Navy (686), and Dartmouth (418).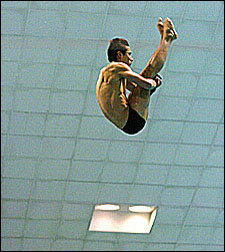 Cole scored his first victory on Thursday afternoon (March 3) in the 500, tapping the wall at 4:20.18 – over 4 ticks ahead of Cornell's swimmer. The Crimson senior dominated the 1,000-meter the following day, finishing at 8:58.56 for a 15-second lead over Princeton's Dave Ashley and Harvard freshman Sam Wollner. On Saturday (March 5), Cole completed the trifecta in the 1,650, touching the wall in an EISL-record time of 14:58.35 – nearly 30 seconds ahead of Ashley. Next up, Cole will compete in this year's NCAA championships, taking place March 24-26 in Minneapolis.
In the three-meter diving competition, favorite Kevin Teague of Navy – seeded at least 59 points higher above the rest of the field after the prelims – found some stiff opposition from the Crimson's Danil Rybalko '06. Following a 67.50-point dive on his second effort, the Harvard junior grabbed a modest lead over Teague, who, following a beautiful 66-point dive of his own, cut the lead, 306.40 to 323.50. Teague surpassed the Crimson diver on his remaining dives to finish first with 553.30 points – good for a 44.5-point edge over second-place Rybalko. The sophomore Midshipman took home the meet's outstanding diver award.