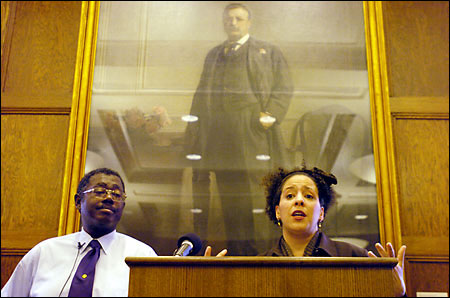 Harriet Wilson was a survivor. Now we have proof.
Wilson wrote "Our Nig; or Sketches From the Life of A Free Black," the earliest known novel by an African-American woman. It tells the story of Frado, a young biracial girl born in freedom in New Hampshire who becomes an indentured servant to a tyrannical and abusive white woman. In 1859, when the book was published, the abolitionist movement had created a vogue among Northern readers for autobiographies of escaped slaves, but Wilson's story of a free black abused by her Northern employer did not fit the established mold, and the novel soon fell into obscurity.
Henry Louis Gates Jr., the W.E.B. Du Bois Professor of the Humanities, found a copy of the novel in a used bookstore in the early 1980s and was intrigued by it. Among those specialists who were aware of the book, many doubted whether it was really the work of a black writer, but Gates wondered why anyone in 1859 would identify herself as black unless she were.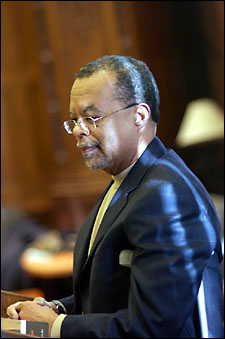 He started searching for evidence of Wilson's existence and eventually succeeded in documenting her life up to 1863. The facts he uncovered closely resembled the events in the life of the novel's protagonist. Gates, who published his findings in a 1983 edition of the novel, concluded that Wilson must have died around the time the historical trail went cold.
Now evidence has surfaced showing that Wilson survived almost another 40 years, demonstrating in other areas of endeavor the resilience and creativity that allowed her to try her hand at writing.
P. Gabrielle Foreman, associate professor of English and American Studies at Occidental College in California, and Reginald Pitts, a historical researcher and genealogical consultant, spoke Friday (March 18) about information they have uncovered about the latter half of Wilson's life. The event was sponsored by the W.E.B. Du Bois Institute for African and African American Research and the Department of African and African American Studies. Foreman and Pitts have incorporated their research into an introduction to a new edition of Wilson's novel (Penguin Classics, 2005).
"Now we can fill in the brushstrokes of Wilson's life and step back and appreciate the larger picture," Foreman said.
Those brushstrokes were many and surprisingly varied. A single mother abandoned by her first husband, Wilson wrote her book, as she explains in an epilogue, to earn money to help support herself and her young son. Since the book seems to have sunk without a trace, the experiment must have failed. Moreover, a death certificate discovered by Gates shows that Wilson's son died soon after the book was published.
But Wilson soldiered on, working as a hairdresser and even marketing her own line of hair products. Gates described his excitement upon receiving as a gift from Foreman a small green bottle imprinted with the words, "Mrs. H. E. Wilson, hairdresser, Manchester, NH."
Other evidence shows that Wilson lived for many years in East Cambridge and Boston's South End, working as a trance medium and a spiritual healer. The Banner of Light, a spiritualist paper published in Boston, carried advertisements for her services, mentioning that she made house calls.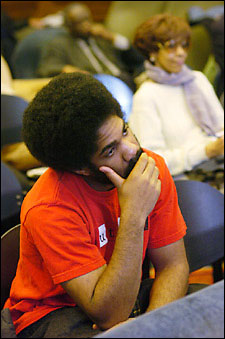 Spiritualism was extremely popular in 19th century America, often attracting people who were interested in abolition and other progressive social movements. Foreman speculated that Wilson may have drifted into the movement out of a desire to communicate with her dead child, the same motive that had driven Mary Todd Lincoln and many others.
Wilson was also active as a public speaker, lecturing on such subjects as labor reform, human brotherhood, and the threat of the "money power." On one occasion she shared a platform with the celebrated reformer Victoria Woodhull, speaking before an audience of 16,000.
"In the novel, Frado is mocked by her employer for her spiritual notions and for presuming to 'preach to white folks,'" said Foreman. "Well, as a woman Harriet Wilson did just that."
The record also shows that Wilson married a second husband who was 17 years her junior. In addition to her public speaking, she performed in musical quartets. She continued both activities until 1900 when she died at the age of 75.
Also present at the Friday event was Boston sculptor Fern Cunningham, who unveiled drawings for the life-sized bronze statue of Harriet Wilson that will be erected in Bicentennial Park in Wilson's hometown of Milford, N.H., in spring 2006. The sculpture was commissioned by the Harriet Wilson Project of Milford, N.H.