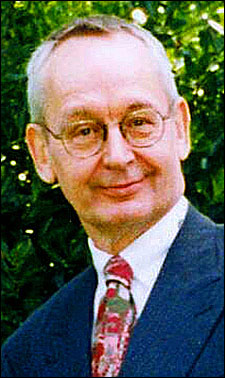 Baber Johansen – one of the world's most eminent scholars of Islamic studies and a leading specialist, in particular, on topics of Muslim law – has accepted a tenured position at Harvard University as professor of Islamic religious studies in the Faculty of Divinity, effective July 1.
"To attract an Islamic scholar of such experience, scope, and influence is an extremely important step for Harvard Divinity School at this time," said Dean William A. Graham. "We look forward to Professor Johansen's immediate contribution as we adjust and enhance our curriculum for a new era in the School's life."
Since 1995, Johansen has been on the faculty of the École des Hautes Études en Sciences Sociales in Paris, where he has worked almost exclusively in seminars with doctoral students. For most of his career, however, he taught undergraduate and graduate students as a professor in the Institute of Islamic Studies at the Freie Universität Berlin, where he received his Ph.D. in 1965. He has also been a fellow at the Institute for Advanced Study and a visiting professor at Harvard, Princeton, and Brown universities.
Johansen is the author of numerous articles and books, most recently "Contingency in a Sacred Law: Legal and Ethical Norms in the Muslim Fiqh" (Brill), and he has received many honors around the world.
During his years in Paris, his research, writing, and teaching has ranged across such diverse topics as the religious and legal status of the mentally ill in Muslim theology and law; how the evolution of legal rules about ritual and sacred space have affected changes in social practices; and what he calls the "protocol of the glance," relating Muslim rules on who can look at whom to larger questions of sexual and class identity.
"This appointment gives me the chance to cooperate with some of the leading scholars in fields closely related to Islamic religious studies and to use the resources of what may be the finest Occidental library on Islam," Johansen said. "After having been a professor in Berlin and Paris, I consider this step a big change, a great chance, and an enormous challenge. I am excited and enthusiastic about the new prospects that integration into Harvard's institutions and culture open to me."