Poet Maxine Kumin, a 1946 graduate of Radcliffe College, will receive the 11th annual Harvard Arts Medal on May 7.
The Arts Medal was created in 1995 to honor a distinguished Harvard or Radcliffe alumnus/a or faculty member who has achieved excellence in the arts and who has made a special contribution through the arts to education or the public good.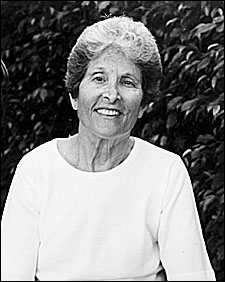 Kumin will participate in Arts First 2005, the 13th annual celebration of the arts at Harvard, May 5-8. She will be featured in a special conversation, moderated by Jorie Graham, Boylston Professor of Rhetoric and Oratory, on May 6 at 4 p.m. The event will be held in the Thompson Room of the Barker Center, 12 Quincy St. Admission is free to the public (tickets or RSVPs are not required), though seating is limited. For more information, call (617) 495-8676 or visit http://www.fas.harvard.edu/ofa/.
"The role of the poet in today's world is, increasingly, to bear witness to world events, to be open to travesties of justice," says Kumin. "At the same time, life itself is the province of the poem, from the most humble particulars of the personal to the broadest communal enterprises. While the personal is always political, it is also true that life is only transmuted into art by way of the imagination."
Kumin's New Hampshire farm, "Pobiz," is the setting for much of her writing; she is well known for her passionate connection to animals, particularly horses, and her land. "Allegiance to the land is tenderness," she writes in the poem "Hay." In an interview in 1992, she said, "I don't see [the] kind of depravity in the natural world that I see in the human world." Yet farm life is not idealized in her poems, but rather linked to the strife of world events and the cycle of death.
Kumin has published 13 volumes of poetry, four books of essays, as well as novels, short stories, and a memoir. She has served as poetry consultant for the Library of Congress and as poet laureate of New Hampshire.
Among the awards that she has received are the Pulitzer Prize for Poetry, the Poets' Prize, the Aiken/Taylor Award for Modern Poetry, and the Ruth E. Lilly Prize. In addition, she has held fellowships from the Academy of American Poets and the National Council on the Arts.
Previous Harvard Arts Medal recipients are cellist Yo-Yo Ma '76, film director Mira Nair '79, composers William Christie '66 and John Harbison '60, National Theatre of the Deaf founder David Hays '52, author John Updike '54, musicians Bonnie Raitt '72 and Pete Seeger '40, and the late actor Jack Lemmon '47.