Twenty-four hours after rallying to beat Columbia, 78-71, the Harvard men's basketball team found itself on the other end of a comeback against visiting Cornell this past Saturday (Feb. 19). The Big Red, down two buckets at the half after trailing by as many as eight points, recovered big time in the game's final 10 minutes, shooting a blistering 69 percent from the field to secure a 67-63 win.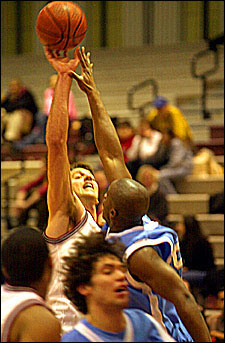 And though Harvard senior Kevin Rogus' three-point basket threatened a recovery for the Crimson – cutting the Big Red lead to 58-55 with just 52 seconds remaining – a composed Cornell squad went on to nail six free throws in those precious 52 to lock up the narrow victory.
The loss puts the Crimson at .500 in league play (5-5, 10-13 overall), good for a fourth place tie with Dartmouth in the Ivy standings. With four games remaining on the Ancient Eight schedule, second place remains up for grabs among a tight pack of contenders comprised of Cornell, Yale, Dartmouth, and the Crimson. Perennial favorite Penn, meanwhile, stands at 8-1.
Rogus led the Harvard charge against the Big Red, collecting 23 points, 18 of them from behind the arc, where he went 6 for 12. Teammates Brian Cusworth '07 at center and forward Matt Stehle '06 each pitched in 10 points in the losing effort. Stehle also grabbed 11 rebounds to collect his second straight double-double, his eighth on the season.
Against Columbia on Feb. 18, it was Harvard that overcame first-half shooting woes to find its stride in the game's second half on 13-for-21 shooting (61 percent). Seven-footer Cusworth led a balanced Crimson offense – four players in white jerseys tallied double figures – with 18 points. The second-year center also accumulated four blocks, and as many steals and rebounds.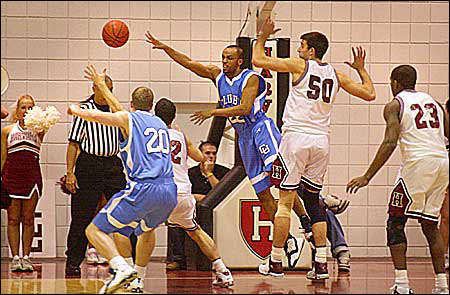 The Crimson again enjoy home-court advantage this coming weekend, when Yale and Brown visit Cambridge on Feb. 25 and 26, respectively.