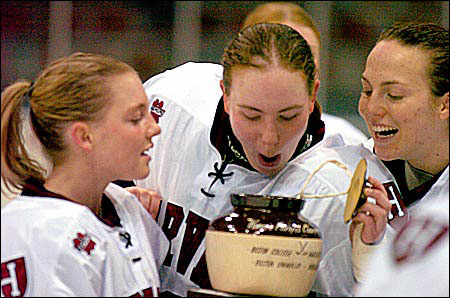 The pace of Tuesday's (Feb. 15) women's Beanpot championship game at Northeastern University's Matthews Arena was decidedly fast and frantic. For the Boston College women's hockey team, the whole ordeal must've been a bit infuriating as well.
Forget that Harvard beat B.C. in the opening round of the tourney a year ago (and with the title on the line in 2002 and 2003). In the most recent chapter, the No. 6 Crimson – who took a 3-0 lead after the first 20 minutes of hockey – out-shot the youthful Eagle challengers 45 to 17 on their way to a 6-1 victory. Five different Harvard players tallied a goal in the win, including a shorthanded score by Julie Chu '06 midway through the second period.
With the victory, the icers net their seventh-straight title (11th in program history) to improve to 17-6-2 (14-1-1 ECAC).
Playing in her final Beanpot, senior Nicole Corriero recorded two goals and a pair of assists, and was named the tournament's Most Valuable Player. For her work between the pipes, junior Ali Boe received the Bertagna Award as the 'Pots top goaltender, denying 32 of 33 shots over two games. The one that got away came at 6:17 of the final period, when the Eagles (perhaps taking a cue from the one-man peanut gallery to "get angry") avoided the shutout on a 5-on-3 power play.
Harvard visits Clarkson and No. 5 St. Lawrence this weekend. Check http://www.gocrimson.com for updates.