Distinguished actor and singer Jada Pinkett Smith has been named the 2005 Artist of the Year by the Harvard Foundation of Harvard University. Pinkett Smith, the unanimous choice of the selection committee, will be awarded the foundation's most prestigious medal at Harvard's annual Cultural Rhythms ceremony on Saturday (Feb. 26).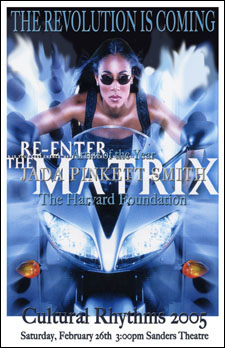 "We are thrilled that Jada Pinkett Smith will be the guest of honor at Harvard to receive this very special recognition," said Harvard College Dean Benedict Gross. "Because of her superb artistic work in film and music, and her humanitarian efforts in youth education and family welfare both nationally and internationally, Harvard is proud to honor her achievements and acknowledge her fine example."
Pinkett Smith is one of the premier talents in the entertainment industry today. Her recent film credits include the box-office hits "The Matrix" trilogy, "Collateral," and "The Nutty Professor." Off screen, her career endeavors include producing, and touring as lead singer of the popular R&B rock fusion band Wicked Wisdom. Her humanitarian work focuses on the support of community development and underprivileged youth through The Will and Jada Smith Family Foundation, as well as significant charitable work conducted on behalf of suffering children and families in South Africa.
Pinkett Smith and her husband Will Smith are the creators and executive producers of "All of Us," UPN's hit television show that is heading into its second successful season. Her numerous television credits include appearances on the "Late Show with David Letterman," "This Morning," "Primetime Live," "Late Night with Conan O'Brien," and "Tavis Smiley." Pinkett Smith has been nominated for several awards including outstanding supporting actress in a motion picture for the award-winning "Matrix Revolutions," "Collateral," and "Ali."
A native of Maryland, Pinkett Smith studied acting and dance at the Baltimore School of Arts and the North Carolina School of the Arts. Her big break came when she landed a role on the long-running NBC series "A Different World," directed by famed dancer and actress Debbie Allen. Pinkett Smith and her husband Will established The Will and Jada Smith Family Foundation to fund charitable organizations in Baltimore, Philadelphia, and other cities nationwide. The focus of the foundation is on youth educational projects and urban, inner-city, family welfare.
"Jada Pinkett Smith is one of the most gifted talents in American performing arts today," said S. Allen Counter, director of the Harvard Foundation. "In addition to her brilliant acting accomplishments, she is also an enlightened and compassionate supporter of social and educational programs for youth and families at risk. She has been for many years one of the most widely admired television and film artists in America, and an inspiration for young people of all backgrounds. Everyone loves Jada."
The Harvard Foundation, a center for intercultural arts and sciences initiatives, honors the some of the nation's most acclaimed artists and scientists each year. The Harvard Foundation's Artist of the Year award bears the signatures of Harvard's president, the dean of Harvard College, and Harvard Foundation Director Counter. Previous Artist of the Year awards have been presented to other distinguished actors including Denzel Washington, Andy Garcia, Will Smith, Matt Damon, Jimmy Smits, Jackie Chan, Queen Latifah, and Halle Berry.
Cultural Rhythms Artist of the Year Jada Pinkett Smith and her band, Wicked Wisdom, will perform in Sanders Theatre as part of the Cultural Rhythms Festival on Saturday (Feb. 26) at 8 p.m. The festival will kick off at noon with a Kirkland House reception and luncheon for Jada Pinkett Smith. The Cultural Rhythms show will then begin at 3 p.m. in Sanders Theatre, followed by a food festival at 5:30 p.m. in the Science Center hallway. Tickets are $12, Harvard ID only (limit 2 tickets per person per ID).
The second Cultural Rhythms show begins at 8 p.m. when Wicked Wisdom takes the stage, and continues with student performances through 10:30 p.m. Tickets are free but ticketed in advance at the Harvard Box Office. Tickets for Harvard ID-holders only; limit four tickets per ID. Tickets valid until 6:45 p.m. Harvard Box Office (617) 496-2222.