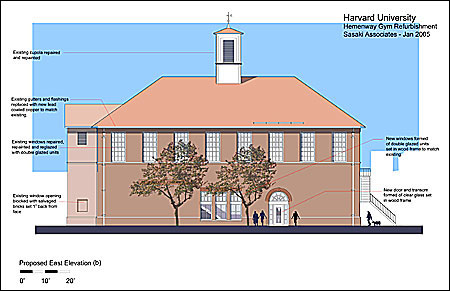 Harvard University's Faculty of Arts and Sciences (FAS) and the Harvard Law School (HLS) will collaborate to renovate Hemenway Gymnasium in a project slated to run from late May to September of this year. The two schools will split the cost of the top-to-bottom interior rehabilitation of the 28,000-square-foot recreational fitness facility, which will be closed during construction.
The project's architect is Sasaki Associates Inc. of Boston and San Francisco, a firm responsible for existing fitness facilities at the Massachusetts Institute of Technology and Brandeis University.
"The new Hemenway will be a terrific contribution to the health and recreation of our students, faculty, and staff," said FAS Dean William C. Kirby, Edith and Benjamin Geisinger Professor of History. "Our physical well-being, academic success, and emotional health are all intertwined; I am delighted to support this big improvement to our athletic facilities."
"Renovating Hemenway Gym will go a long way toward creating a campus that is worthy of our students," said HLS Dean Elena Kagan. "One of my highest priorities is improving the quality of student life at the Law School. We've already enhanced some of our classrooms and overhauled our student center. Fixing up the gym is the next big step in this process."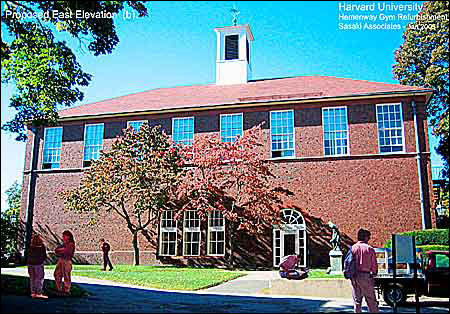 Hemenway is a recreational fitness facility located in Harvard's North Yard, across Massachusetts Avenue from Cambridge Common. An FAS building near Harvard Yard housing and adjacent to Harvard Law School (HLS), Hemenway is used heavily by Harvard College freshmen, science students in the Graduate School of Arts and Sciences, and HLS students, faculty, and staff. The facilities will continue to be available to all Harvard affiliates after the completion of renovations.
The rehabilitation will more than double Hemenway's supply of fitness equipment, bringing state-of-the-art replacements for existing cardiovascular and weight machines. The building will also gain air conditioning and provide access for the disabled.
Hemenway's three-story interior will be reconfigured, although the renovation will include no structural changes. Three new international-size squash courts will replace the current seven American-size courts, with other space now dedicated to squash courts converted to house cardiovascular and weight equipment. Locker rooms will be consolidated on two levels. The building's top floor will continue to consist of a gymnasium, along with a multipurpose room fashioned from a former badminton court.
Few changes are expected to Hemenway's cupola-topped brick exterior, which is part of the Cambridge Common Historic District and protected by both Cambridge and Massachusetts historic commissions. Hemenway's eastern facade, facing away from Massachusetts Avenue and toward the North Yard, will be altered slightly: Three new windows will be added at the entry level and the entrance door will be replaced with a new door containing larger amounts of glass.
Designed by Coolidge, Shepley, Bulfinch and Abbott, and completed in 1938, the present Hemenway Gymnasium replaced an older building of the same name that had occupied the North Yard since 1876. Originally featuring squash courts, a basketball court, and a badminton court, Hemenway's uses have changed over time as desire has grown for all types of recreational facilities, including cardiovascular and weight equipment and group fitness rooms. The building was last significantly modified in the 1960s, when a squash viewing area was added and some building systems were upgraded.