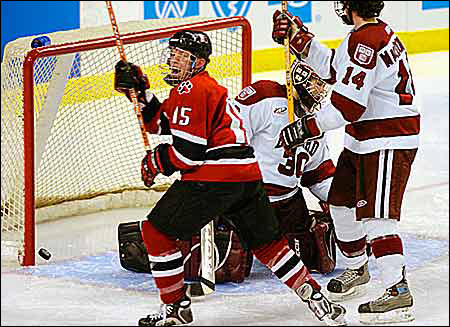 For the Harvard University men's hockey team, this past Monday's (Feb. 7) 81-minute-double-overtime-marathon-on-ice against Northeastern ended awfully abruptly. With the game tied at 1, just minutes into the second extra-frame, Huskie senior Tim Judy, hovering a stick-length over the blue line, fired a slap shot through loads of traffic, and, somehow, into the Crimson net. And though time seemed to stand still inside the FleetCenter following the improbable game-winning goal, the outcome of the 53rd annual Beanpot semifinal was suddenly history.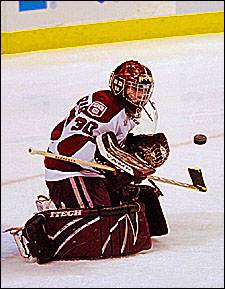 The loss, in turn, handed Harvard (14-6-2, 11-4-1 ECAC) its seventh-straight defeat in the opening round of the local tournament – a not-so-enviable school record. The Crimson, which paced all 'Pot participants in power-play conversions at nearly 24 percent (fifth best in the nation) heading into the contest, failed to capitalize on their five man-up opportunities. Goalie Dov Grumet-Morris '05, meanwhile, tallied 34 outstanding saves to deny Northeastern (11-13-4, 6-8-3 Hockey East) just as many power-play chances.
Behind such solid net-minding – coupled with sophomore Kevin Du's quick goal that put Harvard on top, 1-0, a mere 59 seconds into the opening frame – coach Ted Donato's Crimson appeared poised to break their title-game dry spell. That is, until Northeastern netted the tying goal on a short blast by Huskie winger Mike Morris some 16 minutes after Du's score.
Over the remaining two periods, both teams withstood – and inflicted – heavy onslaughts. All told, Harvard fired off 12 shots in both the second and third periods, while the Huskies attempted a combined 19 tries on goal in the final two frames of regulation. The first OT brought more of the same (19 shots on goal between the two teams), and for the Crimson, a godsend: three separate man-up opportunities. Yet Northeastern's Keni Gibson was unfazed between the pipes, fending off 11 Harvard blasts (39 total saves on the evening), enough to extend play to the second overtime.
The Crimson next visit Rensselaer on Friday (Feb. 11) before resuming Beanpot play at the FleetCenter on Feb. 14, when they will challenge No. 1 Boston College for third-place bragging rights.
Check http://www.gocrimson.com for updates.