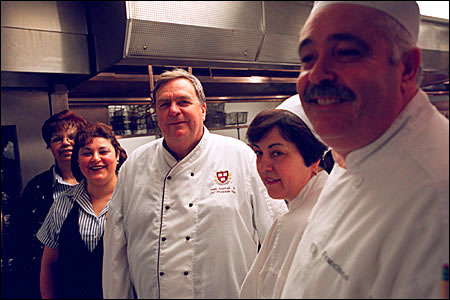 The snow was as high as an elephant's eye. Every restaurant in the Square was closed. And Harvard students were getting a bit peckish. General manager of the dining hall at Leverett House Arthur Robins worried about his charges: "Four hundred kids stuck here with nothing but Ramen noodles and peanut butter and jelly." Not an appetizing picture.
Actually, it was a serious concern, and it turns out that scores of Harvard University Dining Services (HUDS) staff took it very seriously. A total of 123 hourly staff and 20 managers walked, biked, and carpooled to work on Sunday (Jan. 24), some during the peak of the blizzard of '05. They were acutely aware that the storm reduced undergrads on a mandatory board plan to hunting and gathering as the only options for getting nourishment.
The courageous staff who braved the storm provided students with breakfast, brunch, and dinner, serving more than 1,500 meals at the freshman dining hall alone. Annenberg cook Frank Kasprzyck drove in from Waltham at 5 o'clock Sunday morning, picked up staff along the way, and then went back out to gather up more of his co-workers. That night, after working his full shift, Kasprzyck drove people home. Leverett House's chef Heather Ryall came in on her day off after picking up employees in Everett and Brighton, and chef Kim Hannon stayed over Saturday night to ensure that the culinary support group was running smoothly and supplying the campus kitchens. Hannon was joined by father-and-son team Chang He and Bo He.
Grateful students let the HUDS employees know how they felt. Dunster House residents made cards for them. Winthrop House students filled out feedback cards thanking the staff. One student wrote, "Many of us in Winthrop are incredibly thankful … as they saved us from the cold at their own expense." Students and tutors from Adams House were concerned enough to offer up their common room and sleeping bags so that dining hall personnel could stay overnight.
Clearly, a sturdy and deep sense of community motivated these dining services associates to brave the elements. And Adams House dining hall General Manager David Seely is aware of it: "I am very proud of my staff, who sacrificed so much for the students they love."
– Jami M. Snyder