Traditional economic theory assumes that humans make rational choices aimed at maximizing their economic well-being. But anyone who has ever splurged on some alluring trinket even though the rent check might bounce as a result knows that this assumption does not always hold true.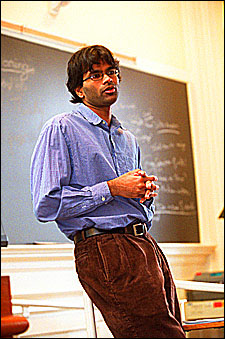 Sendhil Mullainathan is one economist who has spent time rethinking the relationship between rationality and economic behavior.
"Economists have been used to thinking that people make choices in rational ways, that all you need to do to get people to make the proper choices is to disseminate information. But more recently we've begun to realize that even for big decisions, behavior may be driven by seemingly inconsequential factors."
Mullainathan, a 2003 winner of a MacArthur "genius" grant, who became a tenured member of the Economics Department this past September, is one of a growing number of economists who are trying to construct a more accurate model of economic behavior by adopting the perspectives of other social sciences – sociology, anthropology, and psychology. He believes that combining these perspectives can produce a sort of intellectual synergy and lead to a more complete description of the world.
"For example, there's an interesting interplay between what economists call the profit motive and the psychological concept of the self-serving bias, or the tendency to confuse what is fair with what benefits oneself. The self-serving bias can help explain how economic behavior may be ruthlessly discriminatory even when a person believes that it's not."
Recently, Mullainathan has been trying to apply such open-ended, cross-disciplinary thinking to real-world problems. On a recent trip to India, where he was born, he conducted preliminary field research in collaboration with a variety of different nongovernmental organizations (NGOs) focusing on such problems as how to get mothers to supplement breast milk with solid food, a change that has been shown to reduce infant mortality. He hopes to select the most promising of these studies for more intensive research.
Other real-world problems Mullainathan has investigated include the following: Why don't more low-income people take advantage of social programs such as food stamps? Why aren't aids to saving and money management such as bank accounts and direct deposit more popular with the poor? What factors drive people to borrow?
The approach of traditional economics is to collect quantifiable data and fit it into a preconceived structure, but Mullainathan believes that for the kind of exploratory field research he is engaged in such an approach would be inappropriate.
"When you work in the field, you get the opportunity to ask questions you don't normally get to ask. Traditional economic structures would narrow your focus, and that would be unproductive."
To a nonspecialist, the abstract nature of traditional economic thought and the assumption that economic behavior consists of a series of rational choices meant to maximize one's advantage may seem a less than adequate representation of the real world. Why has it taken so long for scholars to explore other factors that may be driving economic activity?
"Many economists would say that we know the theories aren't a perfect fit, but they work well enough," said Mullainathan. "Common sense tells you that these things are there, but are they relevant or measurable? It may be that these factors aren't so important, that they're just noise, static, and that they should be ignored."
But on the other hand, we'll never know whether psychological or sociological factors are relevant to economics until their impact is thoroughly explored, and as Mullainathan believes, this is the perfect time to conduct such exploration.
"There's starting to be a change in the scale on which we can run field experiments, due in large part to the impact of information technology. It used to be very expensive to do this kind of work. Now it's much cheaper because we can use phone and e-mail to maintain contact with people in the field and to transmit information."
He also believes that the potential impact of such unstructured, exploratory research may be considerable.
"A traditional economist might say, 'You've found a way to supplement the feeding of infants – big deal. But a discovery in this area may lead to broader insights. It may lead to a reconceptualizaton of how we look at consumption data, or the credit card market, or market choice."
Besides, said Mullainathan, taking scholarly risks "is what you're supposed to do when you have tenure."
Ironically, Mullainathan, a pioneer in the "humanization" of economics, began his academic journey in the heartland of abstraction, mathematics. In 1993, he earned a bachelor's degree from Cornell University majoring in mathematics and computer science. Although he took a few economics courses, he considered the discipline as basically a species of applied math.
But the interest he developed in economics was strong enough to lead him to begin a Ph.D. program in the subject at Harvard. He earned a degree in 1998 and that same year began teaching at the Massachusetts Institute of Technology. Since that time, his perspective has steadily shifted.
"Since getting my Ph.D., I've moved from thinking of economics as a mathematical discipline to thinking of it as a social discipline," he said.