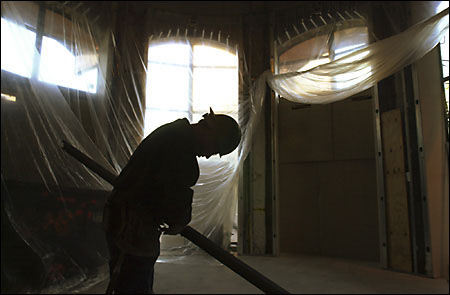 "Nothing will come of nothing," said King Lear. Obviously, he hadn't heard about Zero Arrow Street.
The new building, situated at the acute intersection where narrow Arrow Street nudges the broad flank of Massachusetts Avenue, promises to be full of many somethings, despite the nullity implied by its address.
For one thing, it will house the American Repertory Theatre's (A.R.T.) new performance space, an intimate and flexible "black box" designed to complement the Loeb Drama Center's main stage. But it will also serve as home to two human rights organizations – the Carr Foundation and Physicians for Human Rights. These three tenants are not the strange bedfellows one might suppose, but rather partners in a unique cooperative venture that will combine cutting-edge artistic endeavor with civic dialogue.
"It's very exciting to have these colleagues to enrich our work, and we hope to be able to contribute to theirs as well," said Robert Orchard, executive director of the A.R.T.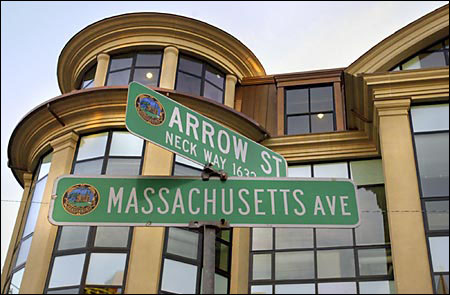 It was Orchard who provided the vision for the new performance space, a vision that began to take shape when he saw Shakespeare's "A Midsummer Night's Dream" in an experimental theater in Budapest. Orchard was startled to find the audience of 300 sitting on swings suspended from an overhead grid. As the spectators swung back and forth, the pendulumlike movement of the ropes suggested tree trunks in the play's enchanted forest. Orchard was even more surprised the next night when he returned to find the company performing a medical drama with the seats rearranged to suggest a surgical amphitheater.
"I realized this was the ideal model for the A.R.T.'s second performance space. I didn't want a fixed proscenium theater. I think to a large extent the art form has passed that by. Young people are more drawn to hybrid forms of the arts, and for that you need an environment that is much more flexible."
But Orchard might still be searching for a place where the new theater could take form were it not for the intervention of Greg Carr. A graduate of the Kennedy School of Government (M.P.P. '86), Carr became chairman of Prodigy Inc., a global Internet provider. He sold his interest in the company in 1999 to become a philanthropist and human rights activist. Among the many projects he supports is the Kennedy School's Carr Center for Human Rights Policy.
Another of Carr's interests is the theater, particularly theatrical performances that raise awareness of social issues and provide a forum for the discussion of ideas. He was the founder of the Market Theatre at One Winthrop Square in Cambridge.
When Carr learned that the A.R.T. was searching for a new performance space, he saw an opportunity to help fulfill its goals while furthering his own. Carr bought the property at Zero Arrow Street, formerly a parking lot, and hired the Grassi Design Group of Boston to design the building. MaryAnn Thompson Architects of Cambridge designed the A.R.T.'s theater space.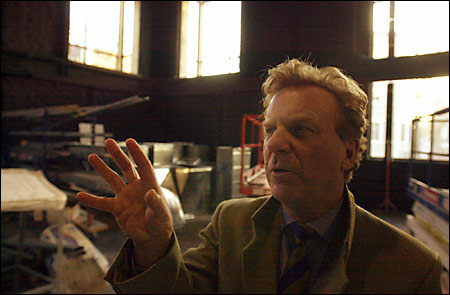 Orchard describes the theater space as a "big black box," 80 feet long by 60 feet wide by 30 feet high with three "telescoping seating pods" of 100 seats each that can be arranged in any configuration.
"The relation between the spectators and the performance can change any time you want," he said.
An acoustical dividing wall can even turn the space into two separate theaters.
The new theater's initial offerings give some idea of the collaborative nature of the enterprise. From Dec. 30 to Jan. 30, the A.R.T. will present a South African Festival, featuring works by three South African writer/performers: "The Syringa Tree" by Pamela Gien; "Nothing but the Truth" by John Kani; and "Foreign Aids" by satirist Pieter-Dirk Uys, who has been called the Dame Edna Everage of South Africa.
In addition, Physicians for Human Rights will present a series of discussions on such topics as AIDS and war crimes tribunals; the RISA Charitable Trust will sponsor a conversation with the Rev. Mpho Tutu, daughter of archbishop Desmond Tutu; Transition Magazine will present readings and performances by South African writers and musicians; and the Harvard Film Archive will screen a selection of South African films.
During February, March, and April, World Music/CRASHarts, a Cambridge-based nonprofit organization that is New England's premier presenter of global culture, will collaborate with the A.R.T. in presenting a series of dance performances by local and international companies.
Orchard says that given the collaborative, civic-minded, and adventurous nature of Zero Arrow Street, there is no limit to the kinds of activities that may take place there in the future. Art installations, environmental works, performance art, films, and video may all find a place under the building's elegant Mansard roof.
"I'd like to see it become a center of artistic and intellectual activity in Cambridge," Orchard said.