At an open house at the Office of International Programs, Jay Bacrania '05 reintroduces himself to a University administrator. She is embarrassed; she's met Bacrania many times before but doesn't recognize him after his year in Banaras, India. Certainly, the beard he's sprouted disguises him, but Bacrania himself admits the change goes beyond the tonsorial.
"I had a massive identity transformation," he says. For Bacrania, who is of Indian descent, this first trip to the subcontinent forced him to reconsider his identity as an Indian – and an American. Along the way, he reevaluated his beliefs, values, cultural traditions, and life goals. In short, he had the sort of experience many believe should be central to the liberal arts education of a young person.
"The most important thing, to me, was to get out of an environment I was comfortable with and see things from a different angle," says Sharon Doku '05, who spent her junior year at the University of Marburg in Germany. "Harvard was something I didn't have to think about."
Doku, Bacrania, and other students who had returned from time abroad shared their stories with interested students at the OIP's open house during the fifth annual International Education Week (declared by the federal government for Nov. 15 – 19). A dizzying compilation of more than 30 events around campus – from film screenings to lectures to information sessions – the week's schedule is a strong testament to the fact that Harvard is, indeed, becoming an international institution.
"We know these students are going to be leaders in the world and do really remarkable things," says Leslie Hill, assistant director of the OIP and coordinator of the week's events. "If they do that with a perspective they've gained from studying abroad, it gives us tremendous hope about their contributions."
Smoothing the path abroad
Yet Harvard's global perspective hasn't always traveled on a two-way street. Despite the myriad international centers on campus, the students who flock to Cambridge from around the world, and the 50-plus languages taught, Harvard lags behind other American institutions in sending its students to study abroad. Bacrania and Doku were among 311 Harvard College students who studied abroad for all or part of the 2003-04 academic year, a significant increase from the cohort of 172 from just three years prior.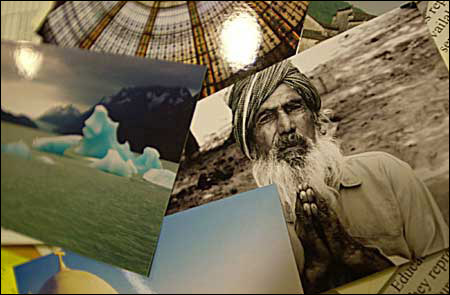 Now appreciated for its many plusses, getting Harvard students to leave for a while still runs counter to the prevailing wisdom of previous decades that held that no place else in the world could serve students better than fair Harvard. The tide had begun to turn when President Lawrence H. Summers, in his installation speech in October 2001, addressed the need to increasingly globalize a Harvard education.
Since then, a veritable tidal wave of administrative support has smoothed students' paths out of the Yard. Counseling on international opportunities, once the province of the Office of Career Services (which continues to advise students on the many work and internship opportunities abroad), got a beefed-up presence when the OIP was created in the fall of 2001. A few months later, the office took up residence in the physical and symbolic heart of campus, University Hall. There, it opens its doors, its expanded staff of advisers, and a rich library of international resources to students who want to drop in for a minute or an hour.
"Our students have long been seeking ways to internationalize their Harvard experience; what has changed is that we are now encouraging them to do so, and allocating more of our resources toward helping to make those experiences exceptional," writes Dean of the College Benedict Gross in the recent Harvard College Parents Newsletter.
---
---
OIP Director Jane Edwards, who arrived in July 2003, is quick to note that the formidable structural and administrative advances made by her office would not have been possible without unflagging support from the top tiers of University administration. "Harvard College is dead serious about the initiative to get everyone abroad for some significant experience," says Edwards.
"If Harvard is to lead the world in intellectual thought, we must ensure that our students gain a global perspective," says Summers.
The Curricular Review of Harvard College, which mandates "an expectation that all Harvard College students pursue a significant international experience during their time in the College," solidifies this commitment, as did the relaxing of core requirements for students who study abroad for credit.
"We can gain mutual understanding, both through rigorous study and personal relationships built at home and abroad," says Dean of the Faculty of Arts and Sciences William C. Kirby. "All the world's students – our future leaders – – and all of us involved in higher education have a stake in this effort."
Overcoming barriers, cultural and financial
With such substantial support, Edwards deems the expectation of giving all College students a substantial experience abroad "totally realistic." Yet with many of these international experiences being summertime study, work, or research trips, Edwards adds that the University will need to supply additional funding. Although Harvard has significantly eased the financial burden for students pursuing for-credit study during the year or the summer, students remain hindered by the financial sting of an international opportunity that means forfeiting a summer job at home.
Working closely with House masters, deans, tutors, and other student support services on campus, Edwards and the OIP staff are confident that Harvard can address some of the other logistical roadblocks, like reintegration into the Houses, to students' return to Cambridge. While students returning from a semester or year abroad generally report positive experiences, Edwards notes that there is a period of adjustment – and that's normal.
"Spending a chunk of time in another place requires transition," she says. "That's only a negative thing if you see it as one. I see it as growth."
Edwards says that perhaps the biggest barrier to convincing students to leave Harvard is a cultural one: Students cling to the notion that their time on campus and the friends, activities, and leadership opportunities here are too precious to squander for even one semester. As more students return with positive experiences, Edwards is confident that the culture will shift.
"Nothing you can lose at Harvard would be worth as much as you gain from spending a year in a foreign culture," says Brian Myers '05, a government concentrator who spent last year in Paris studying at Sciences Politiques and working at an investment bank. "It's opened up a lot of opportunities that would not have been available to me."
Doku, who gave up an active extracurricular life in Harvard theater during her year in Germany, concurs. Speaking with underclassmen at the OIP open house, she is unabashedly evangelical.
"You should absolutely study abroad," she says. "If you can't go for a year, go for a semester. If you can't go for a semester, go for a summer."