Literary quiz. Name the author of this Chandler-like excerpt from a recent thriller: "I changed the channel. PBS had a special on nuclear terrorism. Some expert from Harvard's Kennedy School was droning on …"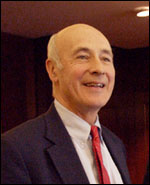 As usual, the former dean of the Kennedy School Joseph S. Nye Jr. has received a lot of attention as a result of his latest publication. But this time the attention has come from unusual quarters – and this time the work is not titled "Energy and U.S.-Japan Relations" or "Terrorism: Prevention, Intervention and Multilateral Cooperation." The book is called "The Power Game: A Washington Novel," and it has been hailed by various reviewers as "beautifully crafted, poignantly told," "seductive," and "a witch's brew of ambition, deceit, and betrayal."
As well as being an expert on nuclear proliferation, wrote Richard Haass, president of the Council on Foreign Relations, the author has shown himself to be "an authority on fly-fishing, bureaucratic infighting, and – I hope you are sitting down – sex."
When asked why he chose to take the thriller route, writing this "realistic, entertaining, thought-provoking novel" (Publishers Weekly), Nye said, "I felt [fiction] was an interesting new way to explore the issues of power and morality that grew out of my experience with nuclear weapons policy in Washington.
"I thought up the plot that involves Pakistan selling nuclear weapons to Iran over a decade ago. With recent news stories, I became worried that fact would overtake my fiction!"
The publisher is perhaps less surprising than the genre; "Power Game" is published by Public Affairs Books.
– Alec Solomita