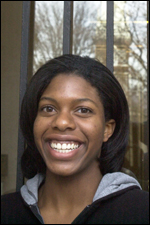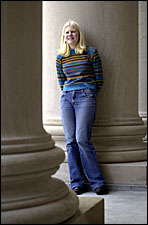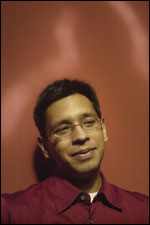 Four Harvard undergraduates, a recent graduate, and a graduate student have been named Rhodes Scholars this year. The scholarship trust made the announcement on Nov. 21. The winners of this prestigious award are Peter Buttigieg '04, South Bend, Ind.; seniors Melissa L. Dell, Enid, Okla., and Sarah J. Hill, Bismarck, N.D.; graduate student Rachel Y. Mazyck, Laurel, Md.; and seniors Swati Mylavarapu, Gainesville, Fla., and Kazi Sabeel Rahman, Scarsdale, N.Y.
Created in 1902 by the will of British philanthropist Cecil Rhodes, the scholarships provide two or three years of study at Oxford University in England. Winners are selected on the basis of high academic achievement, personal integrity, leadership potential, and physical vigor, among other attributes.
This year's scholarships bring Harvard's total number of Rhodes Scholars to 315.
Peter Buttigieg '04 of South Bend, Ind., feels sure that he will always be involved in politics in some way and believes that studying at Oxford will provide him with theoretical sophistication in that field. "Politics is in my bones," he said. "I grew up hearing my parents hollering at the TV." As an undergraduate, Buttigieg was involved with the Kennedy School's Institute of Politics, which, he said, "sparked the fire in me."
That fire has continued to burn since his graduation last June when he took a job with the Kerry campaign. Now, after a short rest, he is about to head for Washington, D.C., to work as an organizer for The Leaders Project, which brings together younger leaders from around the world for constructive dialogue. A history and literature concentrator, Buttigieg wrote his thesis on the influence of Puritanism on American foreign policy as reflected in the Graham Greene novel "The Quiet American" and its two movie versions (1958 and 2002). The former Leverett House resident plans to continue investigating politics from an interdisciplinary viewpoint by pursuing a B.A. in philosophy, politics, and economics at Oxford.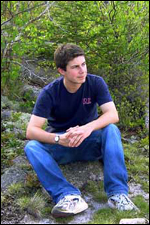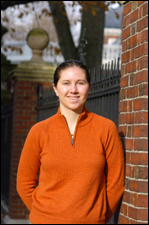 Winthrop House resident Melissa Dell from Enid, Okla., is a senior concentrating in economics whose interests have focused on economics and gender issues in Latin America. Last spring she studied in Chile, conducting research on the immigration of Chileans to the United States for the UN Economic Commission for Latin America and the Caribbean. She is currently writing her senior thesis on how the North American Free Trade Agreement affects the female labor force in Mexico.
Dell said that she is interested in a career in international development policy and "really wanted to study in England" because of the interdisciplinary focus of British development programs. "In the real world, development problems are interdisciplinary," she said. At Oxford she plans to study international development issues from the perspectives of economics, political science, anthropology, and sociology.
A Truman Scholar who was chosen as one of Glamour Magazine's Top 10 College Women in 2004, Dell is the national director of College Matters, a nonprofit organization that helps students apply to college.
Conducting original genetic research at Dana-Farber Cancer Institute under the direction of David Livingston, the Emil Frei Professor of Medicine, convinced senior Sarah Hill to pursue a career researching breast cancer oncology. A biochemistry concentrator from Bismarck, N.D., Hill said she was "totally ecstatic" about winning a Rhodes because it will help her realize her dream of earning a combined M.D./Ph.D. degree. She plans to earn a Ph.D. in biochemistry at Oxford, then enter medical school in the United States.
The Winthrop House resident said that earning two degrees will give her a strong background in molecular and cellular biology and help her make contributions in the field of cancer research, but she also knows that clinical practice will play a big part in her future career. "I'm very interested in seeing the British medical system, and I think I might volunteer in a hospital there. After I get my M.D. degree, I'll definitely be a practicing clinician as well as a researcher. I think that seeing patients is really important."
Rachel Mazyck from Laurel, Md., graduated from the University of North Carolina at Chapel Hill in 2002 and is now at the Harvard Graduate School of Education where she is pursuing a master's degree in education policy and management. She has worked with Teach for America in Mississippi, and interned for the Education Trust. Her honors thesis was on the impact of skin color on black women in the literature of the Harlem Renaissance. Mazyck plans to do a D.Phil. in Educational Studies at Oxford and will use the opportunity to gain greater insight into the impact of race on educational achievement.
"I hope to continue my work in education policy by studying the achievement gap between minority and white students in the U.K. and comparing it to the achievement gap in the United States. I would like to see if any of the policies that they are implementing there would be useful in our efforts to close the achievement gap in the United States," she said.
Mazyck plans to work in education policy, either in the Department of Education or with a nonprofit that does education advocacy work. She is looking forward to meeting and learning from education leaders in the United Kingdom.
Swati Mylavarapu, from Gainesville, Fla., is a senior with a special concentration in development studies. The Mather House resident is planning a career in development policy, possibly with the United Nations, and feels that winning the Rhodes has helped to validate the aspirations that have led her in that direction.
"I think the scholarship represents a recognition of my sincere interest in public service and leadership, in being an agent of positive social change. It's a validation of my idealism," she said.
A Truman Scholar and a national debate champion, Mylavarapu began her freshman year believing she would concentrate in biochemistry, but a trip to Nicaragua with her freshman seminar class piqued her interest in the social sciences. She serves as president of the Harvard International Relations Council and editor in chief of Bhumi Magazine. As an undergraduate she has studied ethnic conflict in India, and, working with faculty at the Law School, has investigated indigenous rights cases. At Oxford she plans to pursue an M.Phil. in economic and social history and beyond that is thinking about a law degree.
Kazi Sabeel Rahman of Scarsdale, N.Y., is a senior concentrating in social studies. He is editor of the Harvard International Review, and was elected to Phi Beta Kappa as a junior. A resident of Mather House, he is a tutor in the Harvard Writing Center, plays the clarinet, and is active on the Bangladesh Rural Advancement Committee. Born in Bangladesh, Rahman grew up in Thailand where his father worked on assignment from the United Nations. It was the contrast between those countries and the United States that first got him interested in economic development, he said.
"Those experiences made me particularly sensitive to the huge inequalities between conditions in the Third World and the standard of living we enjoy here. We have poverty in the U.S., but it's something that can be addressed through specific programs. In poorer countries it's a systemic problem."
Rahman, who plans to do the M.Phil. in development studies at Oxford, believes that the interdisciplinary approach favored there is best suited to meeting those systemic demands.