Nannerl Overholser Keohane, past president of both Duke University and Wellesley College, will become the newest member of the Harvard Corporation, the University announced Sunday (Dec. 5).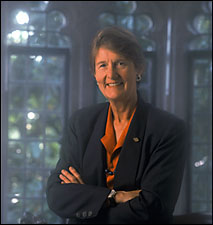 Keohane will join the corporation as a Fellow of Harvard College on July 1, 2005. She will succeed Hanna Holborn Gray, president emerita of the University of Chicago, who earlier this year announced her plans to step down from the corporation at the end of the 2004-05 academic year, following eight years of distinguished service.
"Nan Keohane's leadership, wisdom, and extensive knowledge of American colleges and universities are sure to contribute a great deal to the work of the Corporation," said James R. Houghton, the corporation's senior fellow. "All of us are delighted that she has agreed to serve."
"Few people in higher education today have Nan Keohane's depth of experience and breadth of perspective in dealing with the extraordinary opportunities and complex challenges facing our leading universities," said President Lawrence H. Summers. "Harvard has much to gain from Nan's insight and expertise, and I very much look forward to working with her in the coming years."
"I am greatly honored by this appointment, and enthusiastic about the prospect of working with President Summers and the governing boards," said Keohane. "Harvard is regarded as a model and exemplar for universities around the world; that makes the opportunities facing the University – and the challenges – especially significant, and especially intriguing. Ever since 1972, when I spent a very happy sabbatical year working on my first book in Widener and Houghton libraries, I have thought of myself as a member of the extended Harvard family. I hope – to paraphrase John F. Kennedy – that this service will enable me to add a Harvard education to my Yale degree."
A scholar of political philosophy, Keohane served as president of Duke from 1993 until June 2004, emerging as one of the most admired leaders in American higher education. During her presidency, Duke launched an array of new programs in areas ranging from ethics to genome sciences and policy to interdisciplinary studies in the humanities. The university also broadened its commitment to international affairs, pursued improvements to the undergraduate experience, restructured and expanded its academic medical center, and carried out a successful $2 billion fundraising campaign, among other initiatives.
Before assuming the presidency of Duke, Keohane served from 1981 to 1993 as president of Wellesley College, her alma mater. There, as at Duke, she served concurrently as professor of political science. Earlier in her career, she was a member of the faculty at Swarthmore College (1967-73), the University of Pennsylvania (1970-72), and Stanford University (1973-81), where she was chair of the faculty senate and won the Gores Award for Excellence in Teaching.
Keohane is spending 2004-05 as a fellow at the Center for Advanced Study in the Behavioral Sciences in Stanford. Starting next fall she will serve as the Laurance S. Rockefeller Distinguished Visiting Professor of Public Affairs at Princeton's Woodrow Wilson School of Public and International Affairs.
Born in Arkansas, and raised in Arkansas, Texas, and South Carolina, Keohane received a B.A. from Wellesley College in 1961, then studied at Oxford as a Marshall Scholar, earning a B.A.-M.A. with first-class honors in philosophy, politics, and economics. She took her Ph.D. in political science in 1967 from Yale, where she was a Sterling Fellow.
Keohane has long had professional and personal ties to Harvard, through her service as a college and university president as well as through her academic work. She is a longtime member and recent chair of the Board of Overseers' Visiting Committee to the Kennedy School of Government, and she received an honorary doctor of laws degree from Harvard in 1993. Her husband, Robert O. Keohane Ph.D. '66, was Stanfield Professor of International Peace at Harvard from 1985 to 1996, and served as chair of the Government Department from 1988 to 1992. The Keohanes have four children – two of them Harvard alumni – and seven grandchildren.
Keohane has written widely on questions of political philosophy, feminism, and education. She is the author of "Philosophy and the State in France: The Renaissance to the Enlightenment" (1980) and co-editor of "Feminist Theory: A Critique of Ideology" (1982). More recently, she has written and lectured on an array of higher education topics, bearing on the mission of research universities, the role of the university president, the importance of liberal arts education, and issues of diversity and internationalization.
A past vice president of the American Political Science Association, she is a fellow of the American Academy of Arts and Sciences and the American Philosophical Society, and a member of the Council on Foreign Relations. She has received numerous honorary degrees in addition to the LL.D. from Harvard, including honors from both Princeton and Yale in 2004. She was inducted into the National Women's Hall of Fame in 1995, and in 2003 was one of the first-ever recipients of the Marshall Medal, presented by Prince Charles.
Keohane's extensive engagement with various academic and other nonprofit institutions includes current service as a trustee of the Center for Advanced Study in the Behavioral Sciences and of the Doris Duke Foundation, and past service on the boards of the Colonial Williamsburg Foundation, the Brookings Institution, and the National Humanities Center, as well as the executive committee of the Association of American Universities.
The seven-member Harvard Corporation, formally known as the President and Fellows of Harvard College, is Harvard's executive governing board and the smaller of Harvard's two boards, the other being the 30-member Board of Overseers. In accordance with Harvard's charter, the corporation on Sunday elected Keohane as a Fellow of Harvard College, with the consent of the Board of Overseers.