A Harvard senior has been named a Marshall Scholar, allowing him to study for the next two years in the United Kingdom at the university of his choice.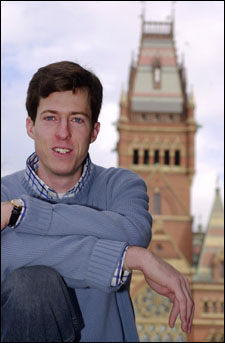 Thomas Wolf, a senior history concentrator, was named a 2005 recipient of the scholarship created in 1953 to commemorate U.S. aid to Europe after World War II under the Marshall Plan.
The two-year scholarships, worth about $60,000 each, are awarded annually, financing study for at least 40 recent American college graduates at the university of their choice. Forty-three scholarships were awarded this year. The program is aimed at promising scholars and likely future leaders in their fields with the intent to strengthen the ties between British and American people, institutions, and governments.
Wolf said he's hoping to pursue two master of philosophy degrees at Cambridge University in political thought and intellectual history and in modern society and global transformations.
Wolf, a high jumper on the Harvard men's track and field team who has also volunteered at the Harvard Square Homeless Shelter, said he's interested in working to revitalize urban areas and he hopes his training will allow him to bring together universities, businesses, governments, and community groups, as well as architects and planners, to focus on that task.
"Hopefully, I can apply the lessons I've gained and will continue to gain through my graduate studies … to develop creative solutions for longstanding political, economic, and social problems," Wolf said.
---
---
Wolf had great praise for Harvard and the experience he's had here. He said he plans to build on his Harvard studies, which have focused on American and modern European intellectual history. He credited James Kloppenberg, the David Woods Kemper '41 Professor of American History and Harvard College Professor; Peter Gordon, the John and Ruth Hazel Associate Professor of the Social Sciences; and teaching fellow in history Eric Paras as important influences.
"Ultimately, I picked the major that would challenge me the most intellectually while allowing me the greatest promise of personal growth, and I haven't been disappointed," Wolf said. "My work at Cambridge represents the next step in what I hope will be an exciting, dynamic career that will span the public and private sectors."
Wolf is a Detur Book Prize winner, a John Harvard Scholar, and a Gilder Lehrman History Scholar.
More than 1,000 Marshall Scholarships have been awarded since the program's start. Prominent past Marshall Scholars include U.S. Supreme Court Justice Stephen Breyer, former Duke University President Nannerl Keohane, Yale Law School Dean Harold Koh, and Pulitzer Prize-winning authors Thomas Friedman of The New York Times and Daniel Yergin, author of "The Prize."