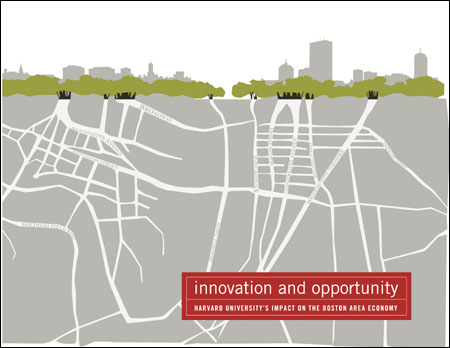 A new report titled "Innovation and Opportunity: Harvard University's Impact on the Boston Area Economy" describes Harvard's broad economic impact, generating more than 48,000 jobs at many levels, from the service industry to construction to highly skilled scientific research positions.
The report – prepared by Appleseed Inc., New York – showed Harvard as a source of stability during hard economic times and an engine whose research operations are an important stimulus, creating new companies, new jobs, and attracting millions of research dollars to the region. Harvard's role as an important economic engine for the Boston area is likely to increase, the report said, as the University expands and broadens its research efforts in a host of new scientific disciplines.
Launching the report in a breakfast speech to the Associated Industries of Massachusetts, President of Harvard University Lawrence H. Summers said, "With Harvard and the Boston area you have a relationship that is like a marriage without the possibility of divorce. Our potential for success is fundamentally intertwined with the success and prosperity of this region, as is this region's with Harvard."
---
Read the full report
---
The report highlights the many ways Harvard affects the economic well-being of its neighbors, from drawing new consumers to the region in the form of students and visitors, to being the region's largest private employer, with more than 16,000 workers, to being a major consumer of goods and services.
The University generates 33,000 jobs by directly employing workers and indirectly through construction, purchasing, and through the economic multiplier effect. More than 15,000 additional jobs are generated through student and visitor spending and through the activities of companies based on Harvard technology, or that were started by Harvard faculty or graduates.
Harvard's overall economic impact is more than $3.4 billion, according to 2002 figures – the most recent available.
"Harvard plays an incredibly important role in Boston's world-class community of research, academic, and health care institutions. This sector has long been one of the city's core economic engines and one that is known and respected the world over," said Mayor Thomas M. Menino. "We are proud of the contributions Harvard University and all of Boston's institutions make to our city. As our institutional community continues to grow and expand, we know that Harvard will continue doing their part, making important strides that will benefit our city and beyond."
Cambridge City Manager Robert Healy said the city is lucky to have institutions like Harvard that are not only employers, but also help draw in other companies.
"Cambridge is fortunate to have exceptional research institutions that serve as important employers and magnets for knowledge-based industry," Healy said. "Harvard plays a vital role in anchoring and enhancing the Cambridge economy."
Research as fuel for economic growth
Perhaps Harvard's greatest impact is as an economic stimulator, thanks to its large research enterprise, the report said. Harvard's research helps build the regional economy by drawing in hundreds of millions of dollars in research grants. In 2002, for example, research spending totaled $522 million, more than 75 percent of which was from federal grants. Harvard's affiliated hospitals add to that total, bringing in $750 million in 2001 alone.
In what may be good news for the local economy, Harvard's research enterprise is growing. From 1998 to 2002, research spending at Harvard grew by 39 percent and further major expansions are under way.
The strong research base attracts major corporations to invest in the region, with companies like Novartis and Merck building new research and development plants that together will employ 1,400.
Discoveries made at Harvard help stimulate the economy when they are licensed to existing or new companies that develop them into useful products. By 2003, 14 companies in the Boston area owed their creation at least in part to technology licensed at Harvard, the report said.
Harvard faculty and graduates also start their own companies, with companies like Biogen-Idec, the Monitor Group, the Wyeth Genetics Institute, and Cambridge Energy Research Associates started by faculty members; and Staples, Boston Beer, Sapient Corp., Vertex Pharmaceuticals, and others started by former Harvard students.
"Harvard's 'Innovation and Opportunity' study provides the latest evidence of what we at the chamber have known for some time," said Greater Boston Chamber of Commerce President and Chief Executive Officer Paul Guzzi. "Our regional economy is knowledge-based and our life blood is research, education, and training. Institutions like Harvard are important engines that create the foundation of innovation upon which our economic vitality depends."
Employment as economic stability
Despite the loss of 100,000 jobs in the region from 2000 to 2003, higher education in general and Harvard in particular helped buffer the region from the poor national economy. Harvard added 17 percent more workers between 1992 and 2002, employing 16,128 on a payroll of $792 million as of April 2002.
The report said that Harvard's jobs are not just numerous, but high quality, coming with many benefits and opportunities for education and training. The benefits for employees and their families helped Harvard become the only university on Working Mother magazine's 100 best employers list for working parents.
In addition to its own work force, Harvard generates thousands of indirect jobs through the money it spends in the local economy. In 2002, Harvard spent nearly $1.4 billion, of which $888 million went to businesses in the five-county Boston area.
That amount includes Harvard's annual construction spending, which, between 1998 and 2003 rose from $105 million to $394 million. The report's authors estimated that in 2003, Harvard's construction spending created 2,750 full-time or equivalent jobs in construction-related fields.
The report estimated that another 1,000 jobs were generated with local contractors who provide building maintenance, security, and food services.
Spending by students and visitors to Harvard also adds to the regional economy. The report estimated that student spending in 2002 totaled $175 million, while spending by visitors for a wide variety of special events, programs, conferences, and other purposes totaled about $82 million in 2002. Together, the report's authors estimated that student and visitor spending generated more than 2,900 full-time jobs.
Human capital
In addition to direct and indirect economic effects, Harvard impacts the region in other ways. One important way is by serving as a generator of skilled labor. Harvard is one of the largest providers of graduate-level education in the region and also has one of the region's largest adult education programs in the Harvard Extension School, which provides area residents the chance to update learning, indulge in personal growth, and gain training needed to meet changing markets.
The University also helps to improve education at lower levels, providing a wide variety of enrichment programs for area schoolchildren. It also helps train area teachers through a variety of programs. The Harvard After-School Initiative is providing $5 million over five years to expand after-school programming in Boston's public schools. The program is also tapping Harvard's faculty's expertise to design better after-school programs.
Other benefits to region
Harvard provides several other benefits to the region, the report's authors found, acting as a major cultural resource and historical steward, which helps maintain the character of Cambridge. The museums, performing arts facilities, and the large Arnold Arboretum, which operates both as a botanical research facility and as one of Boston's largest public parks, also influence the nature of the communities of which they are part.
Harvard has committed considerable resources to helping improve the region's housing crisis. Not only has the University committed itself to housing an increasing number of students in University-owned housing, it has also embarked on an ambitious program, 20/20/2000, which partners the University with a wide variety of community development groups to use a revolving, $20 million loan fund to finance low-income housing in Boston and Cambridge. So far, developers have and are building 1,680 units, partly financed with $11.7 million from the 20/20/2000 fund.
Though a nonprofit organization, Harvard contributes to the region's tax base, the authors found, paying $23 million in taxes, fees, and payments in lieu of taxes to local governments. Harvard employees paid $41 million in state income taxes, and report authors estimate the economic activity generated by the University created another $98 million in additional state and local taxes.