In a season marked by individual record-breaking performances, the Harvard football team put forth the ultimate team effort in the 121st edition of "The Game" on Nov. 20, burying visiting Yale, 35-3. The pretty win capped the Crimson's flawless 10-0 season (7-0 Ivy) to hand the program its 11th league championship. This year's gridiron group joins six renowned squads from seasons past and not-so-past (from 1875, 1890, 1898, 1901, 1913, and 2001, to be precise) to go unbeaten and untied.
Harvard's defense held the Bulldogs, desperate to prevent a four-game slide in the storied series, to just 42 rushing yards. And though Yale found success through the air against the Crimson (231 passing yards), the home defense shut down 11 of the Bulldogs' 17 third-down conversion attempts.
On the ball, the Crimson went 2-for-2 in the red zone on their way to amassing 326 total yards and overwhelming their rivals. In front of his first sellout crowd at the stadium, running back Clifton Dawson '07 had another stellar Saturday afternoon, rushing 121 yards on 26 carries to pace the Crimson effort. The sophomore, who set a school single-season rushing record in the win with 1,302 yards, first put Harvard up in lights at the 4-minute mark of the opening quarter. The score marked Dawson's 17th rushing TD of the season – another Crimson record.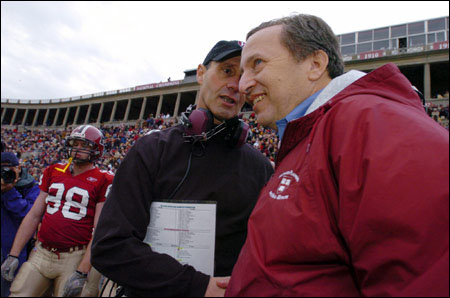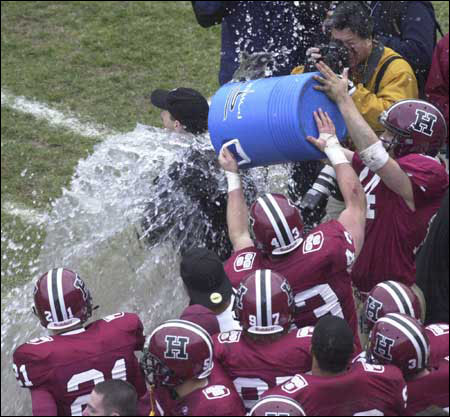 Wide receiver Brian Edwards '05 closed out his Harvard career in style, returning a Yale punt 53 yards for a score in the early going of the second quarter to give the Crimson a two-touchdown edge. Less than three minutes later, "The Game" turned brutal for Yale's faithful, as defensive back Ricky Williamson '05 returned an interception from one end zone to another to give Harvard a hearty 21-0 advantage, following the extra point. Williamson's 100-yard pickoff return was the Crimson's first in 35 years.
And though Yale managed a field goal to close out the second quarter, Harvard continued to pile it on after halftime, tallying two touchdowns in the third – a 27-yard reception by Edwards and a 1-yard sneak by quarterback Ryan Fitzpatrick '05 – for the 35-3 final. Playing his last game in a Crimson uniform, Fitzpatrick completed 15 of 24 passes for 124 yards and ran for 67 yards. Recently selected as the league's Player Of The Year, Fitzpatrick finishes his Harvard service as the school's career leader in total offense (6,721 yards), and second in career passing yards (5,234) and passing touchdowns (37).
All told, Harvard boasts 15 players to be named All-Ivy, including eight first-team selections, four second-team picks, and three honorable mentions. Visit http://www.gocrimson.com for the full story.